Where There's Smoke, There's Ire for Spain's EuroVegas Project
Posted on: July 17, 2013, 05:30h.
Last updated on: July 16, 2013, 05:19h.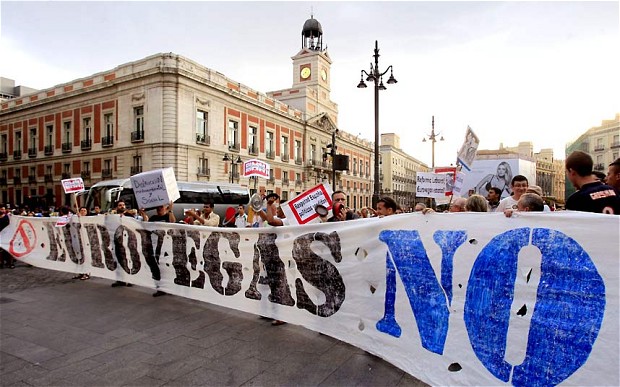 Sheldon Adelson, CEO of Las Vegas Sands Corporation and a top player in the worldwide gambling industry, is about to find out exactly how much power he wields; he's currently locked in a heated battle with the government of Spain regarding their strict anti-smoking laws. Word is that Adelson says unless that ban is lifted for his planned $22 billion EuroVegas casino resort there, the project will be delayed indefinitely.  Sands' company spokespeople say that is "inaccurate" however, and that the project is moving forward as planned, according to recent reports in the Spanish media.
Definite Maybe
"The company remains interested in building integrated resorts in Spain and is grateful and supportive of government's continued work to resolve complex issues tied to enabling such large and complex projects in the Region of Madrid," the official Las Vegas Sands statement reads.
The six-casino, 12-hotel project, which is slated to go in close to Madrid, has been the subject of much controversy on all sides; Spain's sunken economy desperately needs the jobs that the project will bring in, but many Spaniards are opposed to it nonetheless because of its pro-smoking stance and also the common community fears about bringing a large gambling venture into a city that's never had one before.  Madrid's city government lobbied hard for the project, however, beating out Barcelona's bid, and according to media reports, city fathers are bending over backwards to accommodate Adelson's every wish, from bending labor laws, allowing tax breaks, and even making concessions for parents to be able to walk kids through the casinos.
Smoke Signals
That being said, Adelson is nothing if not known for being a tough negotiator, and he clearly realizes he holds the ball here; additional media outlets say that he's not budging on moving forward until and unless Spanish Prime Minister Mariano Rajoy amends laws that ban smoking in most public places to allow it in EuroVegas. Adding more fuel to the fire is the fact that Spain's Health Minister Ana Mato is thoroughly opposed to lifting the ban, for obvious reasons.
EuroVegas is projected for completion by 2025, and it's estimated will create more than 200,000 much-needed jobs in Spain.
Most Read