Vietnam's Ho Tram Strip Project Trying to Come Back to Life
Posted on: April 7, 2013, 05:32h.
Last updated on: April 5, 2013, 10:33h.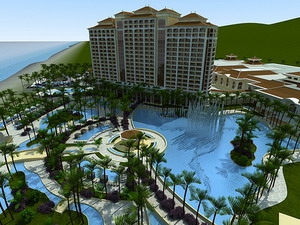 We promise we won't make endless, juvenile jokes this time about an area with the unfortunate name of the Ho Tram Strip; suffice it to say, the Vietnamese version of the Las Vegas Strip is actually an oceanfront integrated resort-casino project, designed to ultimately offer five luxury properties, a PGA-caliber 18-hole golf course, world-class entertainment, and miles of beachfront property overlooking the South China Sea. But it's off to a rockier start than an avalanche in a quarry, most notably with the recent withdrawal of MGM Resorts International from its management agreement with the project.
New Certificate Issued
It's the first good news for this troubled project in awhile; the Vietnamese government has now formally reissued an investment certificate to the Vancouver-based company that's the mastermind behind the former MGM Grand Ho Tram (which to our knowledge has not yet been renamed).  Asian Coast Development Ltd's (ACDL) CEO Lloyd Nathan issued a statement saying the new certificate contained all of his company's requested amendments, but it doesn't look likely that that will entice MGM Resorts Int'l to get back into bed with this Ho Tram Strip project (okay, one little juvenile joke, we're done now, really.)
Without MGM, the resort-casino venture loses position and panache to lure other investors. Meanwhile, Nathan told GamblingCompliance that ACDL is "exploring several alternatives, all of them positive." In the interim, the company's first order of business is to get its line of credit restored to its former $175 million limit with its banking backers.  The banks naturally got a tad nervous late last year when ACDL's initial investment certificate was withdrawn when the company came up short on several construction milestones, which was also what pushed MGM to be done with the project. The previously projected 2013 opening has now been put off to who knows when.
Who's Off Limits?
One of the things we find fascinating about some of these newer casino projects in the far reaches of the world is their dictums about locals not being allowed in.  What's that about? Whatever the reasoning, the Ho Tram project has indeed seen its share of regulatory issues, as the Vietnamese government irons out their views on junket operators and local casino attendance.  The see-sawing is making one major investor a bit queasy; American regional gaming operator Pinnacle Entertainment has already written off $25 million of its initial $110 million ACDL investment, even though they continue to hold a 26 percent stake in the beleaguered company.
Maybe they should rename it the Whose Idea Was This? Strip.