Vietnamese Gamblers Allowed to Play in One Local Casino
Posted on: August 29, 2013, 05:30h.
Last updated on: August 28, 2013, 03:01h.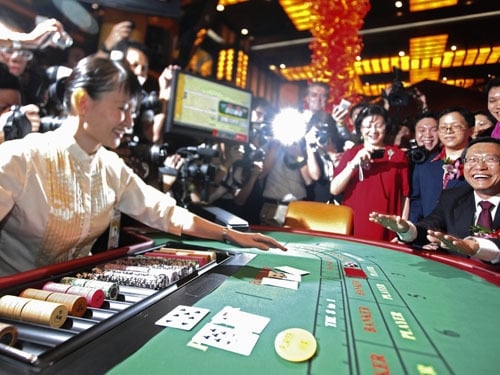 Foreign gaming investors who pulled out of Vietnam may well be backtracking soon following the Politburo's surprise decision to allow Vietnamese residents to gamble in a local casino.
Trial Period for Locals
The go-ahead has been given by Vietnam's top leadership for locals to enter one of the nation's casinos for a trial period, after considering the fact that locals who are unable to gamble in their own country will simply head off to Macau, Cambodia or Hong Kong, meaning the population is still affected by gambling, but the country in no way benefits from its residents' gambling habits.
During a meeting of the house Standing Committee earlier this month, deputy speaker of the National Assembly Nguyen Thi Kim Ngan announced that those who meet certain criteria will be allowed to gamble in a casino which will be built in the Van Don Economic Zone in the Chinese-bordering Quang Ninh Province.
The decision comes despite the government having spent the last 12 months adamantly stating that the consideration was off the table. In fact, a law was even raised last month to charge fines of up to 200 million Vietnamese Dong (around $9,500) to any casinos who were found admitting locals.
No Other Casinos Allowed for Locals
Dinh Tien Dung, Minister of Finance for Vietnam, still stood firmly in the same position even at the announcement that locals would be allowed to enter the future casino, and stated the ban would help to limit the social impact of gambling.
However, consideration of the numbers flocking to Cambodia due to the ban led to the decision, as well as reports of kidnappings for ransoms from gamblers getting into debt and Vietnamese nationals selling off their properties to fund their gambling trips.
"If locals are barred from gambling at home, they will just find other avenues in Cambodia, Macau, or Hong Kong," said Ngan at the announcement.
"I think the government is facing pressure from various parts of Vietnamese society and the international investment community," explained Karl John, chief expert at UK-based Asia Trade Experts. "The motivation for introducing such a subject at this time must be to improve the 'feel-good-factor' amongst society in general and also to attract investment from investors who have been waiting to make a move for some time."
Since Asia is becoming an enormous power in the gambling industry, with Macau having grown to become the world's most successful gaming destination, many investors have had Vietnam on their radar for some time, partly due to the population of 90 million.
Analysts suggest that investors could soon be heading back to the country after pulling out due to the tough entry bans on local punters. Allowing entry to locals could well boost investors' confidence in Vietnam as a potentially strong gambling destination.
And since new investors are required to build large integrated resorts to include malls, restaurants, entertainment and lavish hotels, as well as invest at least $4 billion and have a minimum of ten years' experience in the casino operating business, building confidence in these investors is vital if the Vietnamese market is going to see any growth at all.
Following last year's thirteen-year low of 5.03 percent economic growth, perhaps it is the right time for the Vietnamese government to look towards new revenue sources as strong as the casino industry.