US Indian Casinos See Declining Revenue Growth
Posted on: March 28, 2014, 05:30h.
Last updated on: March 27, 2014, 11:29h.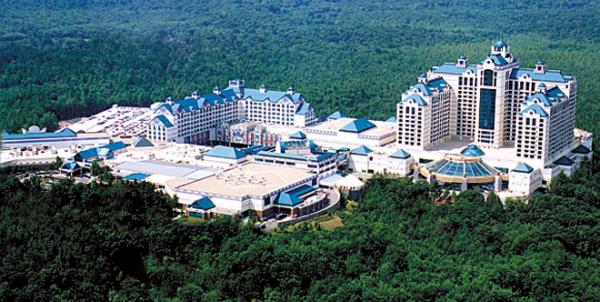 For decades, Indian casinos have been the meat and potatoes of the U.S. gambling industry. Outside of hubs like Las Vegas and Atlantic City, Native American-owned and operated casinos have flourished across the country, bringing much-needed revenues and jobs to tribes throughout America.
But in recent years, the amazing growth enjoyed by these casinos seems to have slowed down. And now, a  new report has confirmed that gamblers aren't flocking to U.S. Indian gambling halls quite like they used to.
Indian Casinos Grow, But Only Slowly
Casino City's Indian Gaming Industry Report, released this week, reveals that revenue growth at Native American casinos slowed down in 2012. In fact, it slowed down so much that commercial casinos actually outstripped Indian casinos in terms of growth for the first time in 18 years.
"That was definitely something different," said Alan Meister, who authored the report.
The numbers vary across the country, but Native American casinos only enjoyed very modest growth overall. Revenues were up about 2 percent to $28.1 billion. That continues a trend of slowing growth that began with the recession of 2008. Before then, Indian casinos were growing at 4 percent; even in 2011, they grew at a 3.4 percent clip.
Regional Differences Remain Stark
For most casinos, the news was at least positive: about two-thirds of Indian casinos saw their revenues go up in 2012. But the news wasn't so upbeat everywhere. In Connecticut, the two tribal casinos – Mohegan Sun and Foxwoods – saw a dramatic revenue drop of 8 percent.
Those venues have been struggling due to the incredibly competitive industry race in the Northeast, as Pennsylvania, New York, Massachusetts and other nearby neighbors have been expanding their gambling options to try to keep their residents at home. The situation will only get tougher when Massachusetts starts awarding casino licenses later this year.
The biggest growth state was Alaska, where revenues were up 20 percent in 2012. South Dakota, Montana and Alabama also saw strong growth. In California – which accounts for 25 percent of all tribal gaming revenue – revenues were up just one percent.
Increased Competition, Weak Economy Blamed
It would be simple to blame the slower numbers on the weak economic recovery since the recession. But while that may be a contributing factor, the real issue seems to be the increasing number of casinos fighting for every dollar that gamblers have to spend.
"There's only so much gambling that can be done, only so much disposable income," Meister said. "You're adding more and more gambling competing for the same dollars."
Most of that competition has come from commercial casinos, which have grown largely because there are simply more of them being built every year. Racinos – gambling venues that are built into race tracks, and often have only slots – are also becoming increasingly popular, growing at eight percent for the year.
Indian Casinos Still A Success Story
Despite the slowing growth, there's still no doubt that Native American tribes have benefited financially from casino gambling. Over the last 25 years, revenue at Indian casinos has grown from $121 million in 1988 to $28 billion in 2012 – meaning revenues have multiplied to over 200 times their 1988 level.
The rate of growth has slowed tremendously, though. In 1989, tribal revenues increased by 148 percent; since 2007, the growth rate has never been above 10 percent.
Similar Guides On This Topic