How US Gaming Operators Fared in 2014
Posted on: December 25, 2014, 08:55h.
Last updated on: December 27, 2014, 08:18h.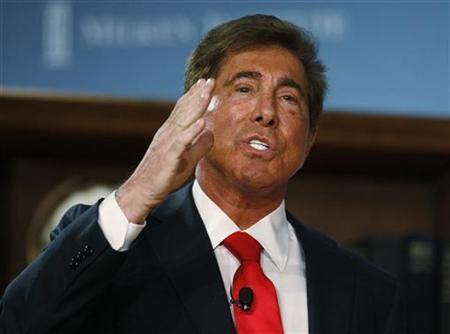 The gaming industry in the United States features quite a few major corporations whose fortunes rise and fall based on how the winds are blowing for gambling across the country and around the world.
When big stories rock the casino world, it's often easy to focus on what that means for players and overlook how the major players behind the scenes are affected by the news.
Each of the major casino firms in the USA saw their businesses impacted by the major gambling stories of 2014. Here's a look back at how four of the largest companies fared in 2014.
Caesars Deals with Debt Issues
For Caesars Entertainment, the year was marked by lots of conversation over the company's debt load, one that most analysts felt (and still feel) was unsustainable.
The firm tried several different ways to restructure and manage that debt, including shuffling many of their most profitable enterprises, including Caesars Interactive Entertainment, into subsidiaries that could be sheltered from a potential bankruptcy or other actions.
These actions have led to a variety of lawsuits from bondholders and investors who believe that they're getting a raw deal as a result of the restructuring.
MGM Scores in Massachusetts
The battle over Massachusetts' casino licenses became something of a battle of attrition in 2013, as many communities voted against allowing casinos in their backyards. When it came to the Western Massachusetts region, only one company managed to survive: MGM Resorts, which won the community approval needed for their proposal in 2014.
Compared to some of their competitors, MGM had a relatively easy time of receiving approval from regulators in 2014. Thanks to strong local support and no competition for the license, it was little surprise when MGM was granted preliminary approval for their Springfield casino, an approval that was finalized after voters rejected a repeal of the state's casino law.
Wynn Victorious in Boston Fight
There was a more contentious battle for the Greater Boston license, however. There, Wynn Resorts was up against Mohegan Sun (which had been brought in to replace Caesars), which had a competing proposal for a Suffolk Downs casino in Revere. The fight saw drama in the Massachusetts Gaming Commission and protests from the city of Boston, and even had the possibility of a tie vote looming over the proceedings.
In the end, though, Steve Wynn's design in Everett came out on top, scoring higher marks from most members of the gaming commission. The process wasn't without questions, particularly about some of the people who sold the land for the resort. But the result isn't in question: Wynn Resorts will have a lucrative new property in the heart of New England's largest metro area.
Sands Targets Japan
The Las Vegas Sands wasn't a major player in the Massachusetts casino chase, but that might only be because the company was looking for bigger fish to fry.
The Sands made it clear that they were ready and willing to spend big in order to build in Japan, provided that the market was finally opened to casino gambling.
Lawmakers there are still hoping to push through legislation in time to get the first casino up and running by the 2020 Summer Olympics in Tokyo. That may not happen, but if it does, Sheldon Adelson has said that his company could spend as much as $10 billion or more to make a casino there a success.
Sides Taken in Online Gambling Debate
Each of the four companies also used 2014 to take a firm stance on Internet gambling. Adelson and the Sands have long been strong opponents of online gambling, but they've been joined by Steve Wynn, who had previously skirted the line between cautious approval and tepid rejection of betting on the Internet.
Meanwhile, MGM and Caesars have been largely supportive of state-by-state online gambling efforts. This split ultimately caused the American Gaming Association to decide to get out of the Internet gaming debate entirely, as its membership was simply too divided on the issue to come up with a coherent stance.
Similar Guides On This Topic
Latest Casino Stocks:
Retrieving stocks data...
Retrieving stocks data...
Retrieving stocks data...
Retrieving stocks data...
Retrieving stocks data...