UK Lottery Winner Credits Scarab for Good Fortune
Posted on: August 16, 2013, 05:30h.
Last updated on: June 16, 2014, 09:40h.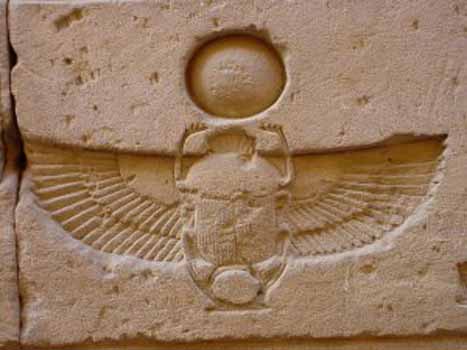 After matching five numbers plus the bonus ball in the UK National Lottery draw, Stephen Birkbeck believes that the win is all thanks to his lucky scarab beetle, which he was given while vacationing in Egypt.
Birkbeck, 43 and from Cumbria, UK, scooped up a nice £369,151 ($570,761) from the draw, and said that he almost forgot to purchase a ticket, only remembering a couple of hours prior to the deadline.
Birthday Line
"I had been busy with work and almost forgot to put on my numbers," said the Cumbrian dad. "I always play one line of birthdays of family members and two lucky dip lines."
Birthdays of loved ones and other significant dates from life are said to be the most common choices when playing the same numbers regularly, so this part of BirkBeck's strategy was nothing new.
But the lottery winner doesn't thank his family for being born on lucky dates; he's directed all his appreciation for his good fortune to a holiday trinket.
"A couple of days earlier while looking through some storage boxes in the house I came across the scarab beetle which I was given as a souvenir from my holiday in Egypt," he said. "I remember I was given it by a local Egyptian man who said 'this will bring you luck, keep it with you.' We had forgotten we had it and it was only when I was searching through some old boxes that I found it again."
Obviously feeling some sort of nostalgia over a fond holiday, Birkbeck assigned a loose superstition to the object, although he himself was sceptical at that point.
"I actually hadn't played the Lotto for a couple of weeks as I had been very busy at work, so Saturday was the first time I had played since finding the beetle," he explained. "I held the beetle as I put on my numbers, never believing it would really work."
While entertaining guests on the evening of the draw, Birkbeck checked the numbers on television and immediately shouted to his wife, Tracy, when he noticed he had matched three numbers, giving him a prize of £10 ($15.44).
Unfolding Drama
"Then it went to four numbers and the five. I just shouted 'Tracy, Tracy we have won the lottery,'" he exclaimed. "I thought we would probably have won a few thousand pounds. I asked Tracy to double check and she noticed we had also matched the bonus ball. We could not believe it and thought we may have won up to £20,000 – which was just amazing."
It was only when Birkbeck made a telephone call to Camelot, organizers of the National Lottery, that news of the huge win really hit the couple.
"I had to stop the lady on the end of the phone and say can you just say that again please," he added. "I was just stunned. Tracy burst into tears and I don't think she has stopped crying since."
Noting that the couple had purchased a house together last year and were expecting to take around ten years to complete all of the home improvements, the duo have now made their home the top of their to-do list thanks to Birkeck's "lucky scarab".
"We will definitely be continuing to play and the scarab beetle will be with me every time I buy the tickets," stated the lotto winner. "I think a return trip to Egypt will also be on the cards to see if we can pick up any more lucky scarabs."
Might want to check the news before scheduling those trips, fella.
Similar Guides On This Topic