Offshore Sportsbetting Firms to Pay £300 Million in Taxes for UK Play
Posted on: August 23, 2013, 05:30h.
Last updated on: August 21, 2013, 07:11h.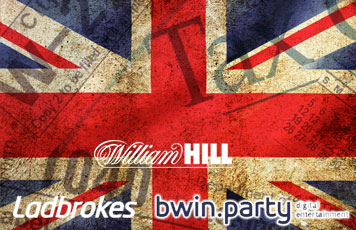 In a move to protect the UK 's racing industry, the country is closing a loophole which has been enabling big bookies to dodge paying tax in Great Britain.  As a result, gambling firms that operate offshore from tax havens, but take bets from British-based punters, could see themselves hit with a combined £300 million ($470 million) tax bill each year. Those who continue to try to dodge paying taxes on their profits obtained from British customers could face up to seven years imprisonment and unlimited fines.
Many UK Bookmakers Operate from Abroad
Some of the UK's most popular bookmaking companies have located their online operations outside of the UK just to benefit from lower tax rates, including William Hill, Ladbrokes and Coral, all of which benefit from huge popularity among UK punters.
Now, beginning in December 2014, bookmakers who take wagers from British-based customers either by telephone or online will be liable to tax bills on the profits, with no consideration of where in the world their operations are located.
Estimates from the Gambling Commission value the UK remote gambling market at more than £2 billion annually, and treasury officials claim that the UK is set to gain around £300 million worth of tax revenues under the new regulations, which will be backed by strong enforcement measures including prison sentences, fines and – most powerfully – repossession of remote gambling licenses.
Essentially, the new plans, which have been three months in the making, will draw on the idea that tax will be paid on a "place of consumption" basis rather than a "place of supply" basis. As such, Culture Secretary Maria Miller will shortly introduce legislation to Westminster ensuring that every gambling website taking bets from UK customers has to hold a British betting license.
Must Have a UK Gaming License to Do Business
Holding a British gambling license will help to ensure that all operators profiting from UK customers will participate towards private funding to help combat problem gambling, as well as to encompass protection for children and vulnerable adults and also help tackle corruption in sports, essentially ensuring that the companies contribute towards the cost of protections being built into the industries on which their businesses rely.
"It is unacceptable that gambling companies can avoid UK taxes by moving offshore, and the Government is taking decisive action to ensure this can no longer happen in the future," said Economic Secretary to the Treasury Sajid Javid to the Daily Mail newspaper. "These reforms will ensure that remote gambling operators who have UK customers make their fair contribution to the public finances."
Taking into account which type of gambling the operator offers, those offering remote gambling services to UK customers will find themselves liable to remote gaming duty, general betting duty or pool betting duty, all of which currently sit at 15 percent.
William Hill, which holds the largest stake in Britain's remote gambling market, and who offers their services from Gibraltar with the obvious goal of avoiding such taxes, (along with Ladbrokes, Betfair and Bwin), has previously stated that should the new regulations come into force, then they plan to challenge the ruling based on the idea that it will breach European Union laws on competition.
Stay tuned as the Great Tax Wars unfold.
Similar Guides On This Topic