Trump Says Florida Should Gamble on Miami Casinos
Posted on: August 20, 2013, 05:30h.
Last updated on: February 23, 2017, 08:04h.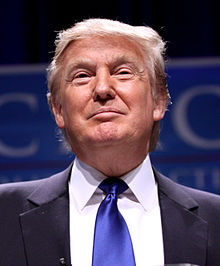 Donald Trump is good at many things; self-promotion possibly topping the list. Running casinos, based on the performance of his current and past Atlantic City properties – the Trump Taj Mahal and the Trump Plaza – may be way further down on his acumen spreadsheet, however. The two casinos are part of what has been a six-year downward spiral for Atlantic City's casinos, revenue and profit-wise. But something like that would never stop someone like Donald Trump from making a pronouncement about something he obviously doesn't have a great handle on, so Donald Trump is telling the world he wants casinos to be allowed in Miami, Florida. And that's that.
Doral Earmarked
Not surprisingly, given the usual Trump M.O., he has a personal stake in the situation now. Having purchased the iconic Doral Golf Resort and Spa – a property that's been a Miami landmark since 1962 – a few years ago for a reported $150 million, and now busy with a major $250 million renovation project, Trump has his eye on the prize: adding a casino to the property. And, as usual, he's not leaving much room for anyone to disagree with his viewpoint.
"If Miami doesn't do casinos, that would be a terrible mistake," Trump said in a recent interview. "Taxes would be able to be reduced substantially and Miami is the only place that Las Vegas is really concerned about — in the United States."
Really? Does Las Vegas know that?
Lobbying for Gambling
Regardless, The Donald has put his money where his mouth is and has hired a Tallahassee lobbyist, Brian Ballard, to make his case to the state legislature. Lest you find yourself going, "Brian Who?", Ballard is also the lobbying force for casino consortium giant Genting, who coincidentally also want to put up an integrated resort in Miami, so maybe our boy Donald isn't really bat-caca crazy after all. At the very least, give the man credit for having the right hook-ups.
The Florida legislature is, in fact, expected to explore a new gambling bill once they return to session in early 2014; Spectrum Gaming Group is currently completing one of those infamous info-gathering reports that lawmakers love to do to buy more time before deciding whose side of which piece of bread they want to butter.
How will it all play out if Trump decides to move forward on his oft-threatened presidential bid in 2016, one wonders? "A casino and medical pot", "Betting on America!" or "We're all in for Trump" are just a few campaign slogans we can picture in the offing.
Regardless, Trump wants legalized gambling in Florida, a casino in Miami, and to be the first one out of the starting gate when/if it comes to pass.
"If [casino] gambling ever comes to Florida, Doral is the single, best location," he said in his Miami Herald interview. "We're on the airport. Every highway leads there. And I have 800 acres."
All roads lead to the Trump mecca, and The Donald is doing his damndest to pave the way with gold.
Similar Guides On This Topic