Report Claims Trump Lobbied For Sands Casino License on Behalf of Sheldon Adelson in Meeting With Japanese Prime Minister
Posted on: October 10, 2018, 05:30h.
Last updated on: March 29, 2023, 04:58h.
President Donald Trump asked Japanese Prime Minister Shinzo Abe to consider Las Vegas Sands for a casino license on behalf of Sands founder and CEO Sheldon Adelson early last year, according to investigative news site ProPublica.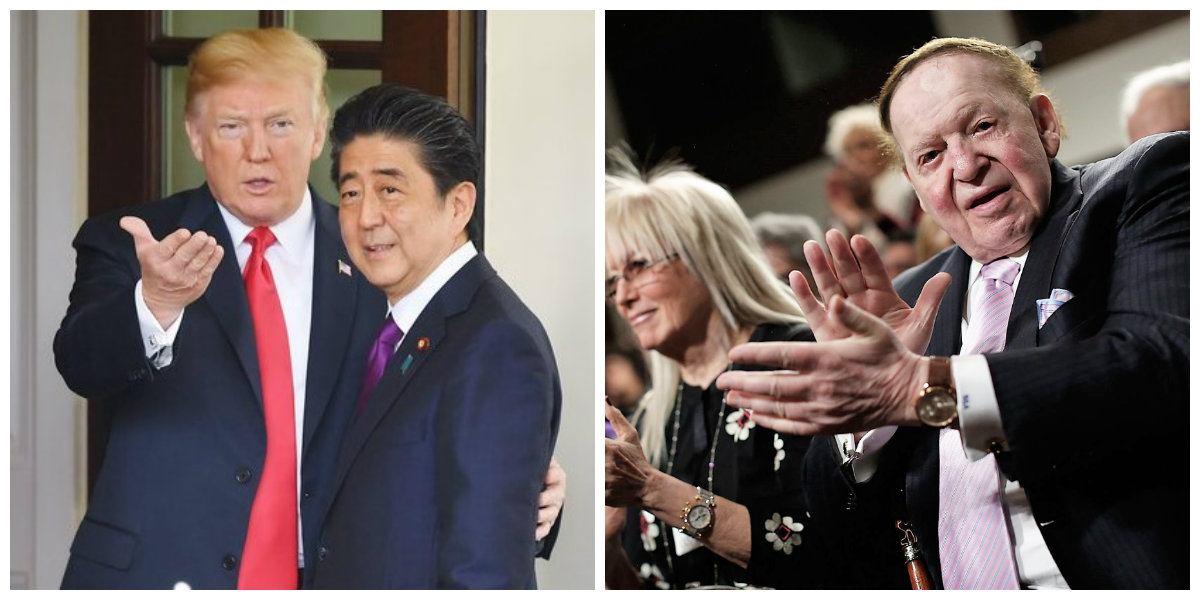 Trump's request came during a February 2017 meeting with Abe at Mar-a-Lago and followed a meeting Adelson and other casino executives had with the Japanese prime minister just days before, the report claims.
In July, Japan passed legislation to allow three casino licenses in the country. After the passage, Adelson told Sands investors that the company was in the "leading position" to acquire one of the three licenses, citing his business background in the country dating back to the 1990s.
But according to ProPublica, the Sands effort to expand its Asian footprint also has the backing of the United States president, who reportedly also mentioned another unverified Las Vegas-based casino operator to Abe during the 2017 meeting.
Abe and Japanese officials "were a little incredulous that [Trump] would be so brazen" about the suggestion, the report says. Abe acknowledged to Japanese legislators that the casino topic did arise during his visit to Mar-a-Lago, but said Trump did not make any specific requests on behalf of any casino companies.
Money Talks, Loudly
Adelson is one of Trump and the Republican Party's most prolific donors. During the 2016 cycle, Adelson and wife Miriam spent $82.5 million on GOP candidates and have spent nearly $60 million so far this cycle.
The Sands CEO's contributions haven't gone unnoticed. In the past he's called himself a "one-issue person," referring to his pro-Israel stance. Trump relocated the US embassy in Israel from Tel Aviv to Jerusalem in May — just days after Adelson donated $30 million to House Republicans. Also to Adelson's delight this year, Trump withdrew the US from the Iran nuclear agreement.
Adelson's influence has also yielded him White House access. He and other casino executives were able to speak with Abe directly during a breakfast that came the morning after a White House dinner they were present at together, according to ProPublica.
Sands already has a prominent presence in Macau, and as the company seeks to expand globally, landing a Japanese casino license is atop the company's wish list. In June, the company announced they were increasing the number of shares they plan to buyback from $1.5 billion to $2.5 billion to help make a run at Japan.
"We are able to maintain the flexibility needed to … pursue and ultimately develop new multibillion Integrated Resorts in key markets around the world," Adelson said of the move.
Prepping the Industry
In April, legislation was passed specifying the allowance of three casino licenses in the country. It's yet to be determined where in the country those casinos will operate.
Last month, city officials in Tokyo said they would commission an impact study about hosting a casino in the country's capital, which is the center of the most populated metropolitan area in the world.
Experts have predicted Japan's gaming industry could be worth up to $15 billion per year by 2025 and Tokyo could be responsible for nearly half of revenue and tourism figures, if it chooses to allow a casino in the city.
Japan's integrated resorts committee said this week that a formal plan for evaluating potential host cities is expected to be in place by next July, and that winning cities will be announced in 2021.