Tribal Casinos Close Gap on Commercial Counterparts
Posted on: March 5, 2016, 12:55h.
Last updated on: March 5, 2016, 12:55h.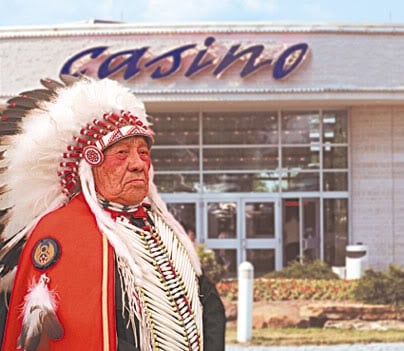 US tribal casinos are outpacing the growth of their commercial counterparts, according to a new report that reveals that 2014 was a record year for Indian gaming.

According to the Indian Gaming Industry Report, by economist Alan Meister of Nathan Associates, the tribal casino segment recorded its fifth successive year of revenue increase, an all-time high of $28.9 billion, and a 1.9 percent climb on 2013.
So extensive is the research, in fact that it took Meister over 12 months to compile. This is hardly surprising; in 2014 there were 489 tribal casinos in 28 states, operated by 243 distinct Native American tribes, who collectively run nearly 352,000 gaming machines and 7,800 table games.
Meister states in his report that the gap between Native American and commercial casinos has never been closer, with the former now representing 43.5 percent of the US casino gaming market and the commercial sector accounting for 44.2 percent.
Large Disparity in Market 
However, despite ostensibly robust overall figures, there remains a wide disparity in the tribal market.
The two best-performing states, California and Oklahoma, for example, generated 39 percent of all revenues for the sector, while the top ten generated 85 percent. And while revenue grew in 20 states, it declined in eight. Meanwhile, growth still lags well behind its pre-recession rate of 4 percent in 2007.
The top fastest declining states were (from high to low): Idaho, Connecticut, New York, Mississippi and New Mexico.
There was no change in the order of the top five best-performing states in terms of revenue, with California leading the pack by some margin. The Golden State's 72 casinos produced $7.3 billion in revenue, representing roughly 25 percent of the entire sector.
Growth of Non-gaming Amenities 
The report highlights that revenue from non-gaming amenities had also grown, although Meister emphasized that tribal casinos will never attempt to compete with the commercial sector in Las Vegas on this front. Nevertheless, revenue grew by 5 percent to $3.75 billion.
"The faster growth of nongaming revenue is indicative of the importance of nongaming amenities in the evolution of Indian gaming facilities," Meister said in the report.
In 2014, tribal gaming collectively paid $1.7 billion in direct payments to federal and local governments and contributed $8 billion in federal, state and local taxes. It employed 738,000 people and paid out $32.6 billion in wages.
Some of the challenges ahead for tribal gaming include increased competition from gaming expansion, regulatory and legal challenges, maturation of the gaming market, and the need to appeal to the next generation of gamer, Meister said.