TMobile Arena in Las Vegas Gets Ready to Kill It with The Killers
Posted on: April 4, 2016, 05:01h.
Last updated on: June 13, 2016, 02:34h.
The TMobile Arena, MGM's new $350 million Las Vegas entertainment and sports arena, opens officially this Wednesday with a concert by local boys-done-good rock band The Killers.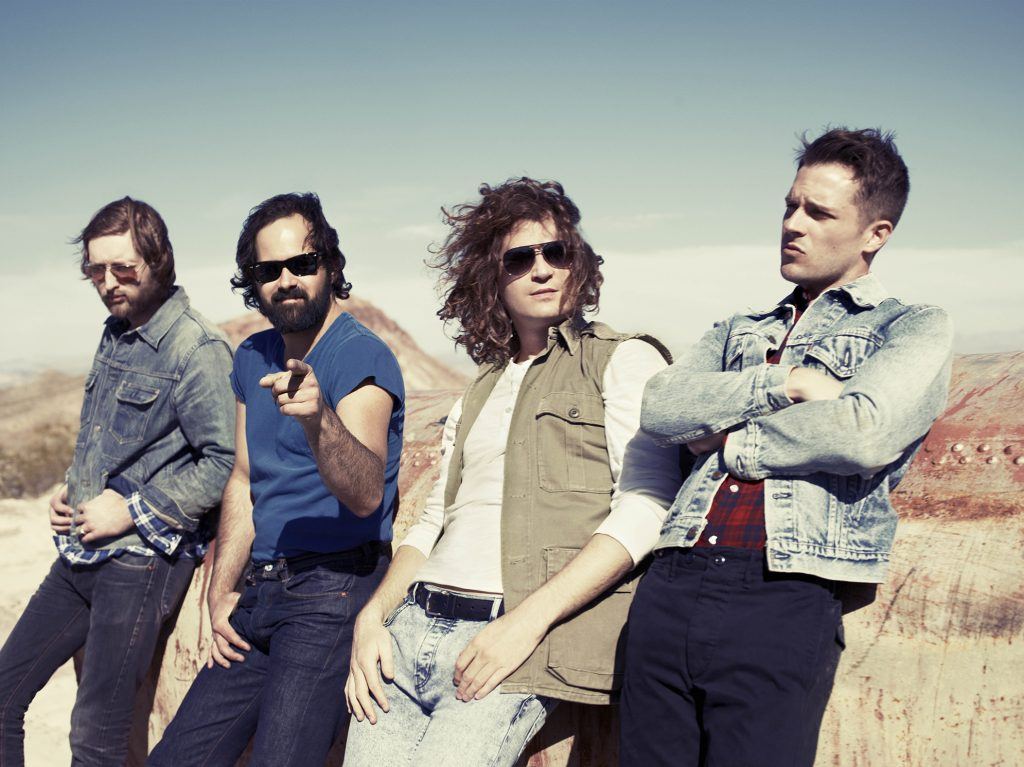 Meanwhile, the Oakland Raiders' boss Mark Davis was back in town on Friday, touring the Sam Boyd Stadium, and the word is he's excited at the prospect of bringing his soon-to-be homeless NFL team to Las Vegas.
Yes, it's a tale of two stadiums in Las Vegas.
But The Killer's spectral indie-rock walls of sound are likely to be drowned out on Wednesday night by a bunch of people loudly complaining about the cost of parking. The TMobile Stadium is the principal reason why MGM has chosen to axe a formerly sacrosanct Las Vegas privilege: namely, free parking on the Strip.
A world-class music and sports venue in return is, apparently, scant compensation, at least if you ask any Las Vegas locals their viewpoint.
"How could they do it? How could they take our free parking? Are they even human?" will be hummed like a massive cicada influx of buzzing, and much-displeased, insects.
"Or are they dancer?" The Killers might add, if they are audible above all the wailing and gnashing of teeth.
"If I could get five bucks of the $10 MGM intends to collect for parking on days of special events from those who say they'll never go to an MGM property again I could build a really nice Road Warrior Retirement Fund," quipped the Las Vegas Review-Journal's Richard Velotta, who's clearly pretty much had enough of it all by now.
Probably the same $5 fund that we plan to collect from all the folks who say they'll leave the US if (fill in your most hated presidential candidate of choice) gets elected. Right.
Raiders to Vegas?
Meanwhile, the Raiders' Mark Davis' tour of the Sam Boyd Stadium went swimmingly, according to the Silver Dome's executive director Mike Newcomb. Davis was scouting out the current home of the UNLV football team to see if it would serve as an adequate temporary base for the Raiders, should Las Vegas Sands' (LVS) plans to build them a brand new stadium come to fruition.
"They're really excited about Las Vegas," Newcomb said of the Raiders to the RJ's Velotta. "Mr. Davis had never been to Sam Boyd before, and I think he was surprised and excited about how nice it was."
LVS plans to build a $1.2 billion, 65,000-seat stadium on a 42-acre plot owned by UNLV just north of McCarran International airport, in an attempt to attract a major sports team to Las Vegas, specifically the Raiders. Then UNLV would also use it for their home games.
Economic Perks
Davis has secured an extension on his lease in Oakland until the end of the 2016 season. But beyond that, the Raiders will be all girdled up with nowhere to go.
And meanwhile, the LVS project is gathering pace. Last week, representatives of LVS and its commercial partners in the project, Majestic Realty, met with the Southern Nevada Tourism Infrastructure Committee to discuss the benefits of the proposal.
The stadium would attract 26 new events, including football games, sporting events, concerts, and shows, the developers said, which would bring in an estimated $785.6 million in spending, plus $49.4 million in new tax revenue.
Throw in some free parking and you might have a deal.