Timms Says E-Gambling Machines Causing Violent Behavior in UK
Posted on: June 16, 2013, 05:30h.
Last updated on: June 15, 2013, 12:48h.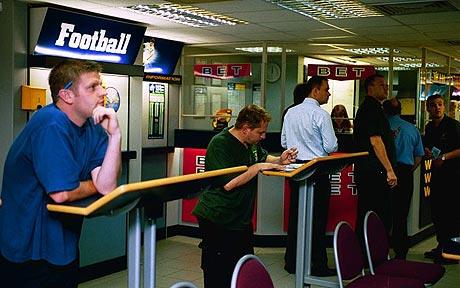 British Labor MP Stephen Timms said recently that gambling machines in betting shops are so addictive, they've sparked street fights after losses sent users into a fury.
Timms said he's been given information indicating that the frustration of losing on the high-stakes casino-style gambling machines can cause a rage in the users which can spill out into violence in the high streets of the UK, endangering other users and the public as a whole.
"The proliferation of these shops and these very addictive terminals within them is destroying people's lives," stated Timms. "We are seeing families broken up and houses repossessed."
Fixed Odds Betting Terminals
Branded as the "crack cocaine of gambling," the fixed odds betting terminals (FOBTs) are said to be so addictive that one betting chain in the country has been forced to upgrade the reinforcements of its machines to prevent damage caused by disgruntled punters losing their money.
"What happens is that people who lose money in these shops become very angry. I'm told Paddy Power has had to upgrade the robustness of the machines because people so often try to bash them up. And that is what often spills out on to the high street," added the shadow minister of state for employment.
Timms, the former Treasury Minister, gave evidence at Thames Magistrate's Court during a case involving Paddy Power, which is currently challenging the decision to block their application for a new shop license in Newham, East London.
Targeting Low-Income Areas
The Newham Council is against the license, claiming that bookmakers target poorer areas with the addictive machines, which can take up to £100 a spin every 20 seconds. In fact, the area already has 81 betting shops, which equates to six per square mile.
However, slightly discrediting Timms is the fact that he was a member of the Labor government which brought in the 2005 Gambling Act that was thought by many to have led to the explosion in popularity of these addictive machines.
In his defense, Timm claims that the development of the technology and the increase in their ability to draw in new punters has happened far quicker than any ministers at the time could have expected. Perhaps the government should not have underestimated the gambling industries ability to capitalize on opportunity.
"As a Treasury Minister I formed the view that there was quite a sense of responsibility within the betting industry," stated Timms rather naively and even more unbelievably. "Now it seems to have been entirely lost since the proliferation of these machines."
Most Read