That Was the Week That Was for Bitcoins and Satoshi Nakamoto
Posted on: March 11, 2014, 05:30h.
Last updated on: March 11, 2014, 01:03h.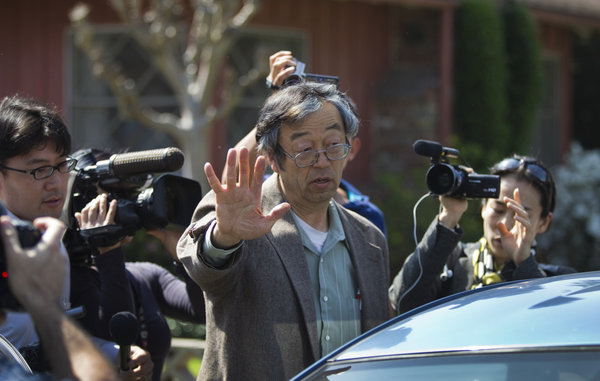 From the time it was introduced back in 2009, Bitcoin has always been a bit of an unusual story: from massive price fluctuations to connections with black market sites like Silk Road, there's always been something new to talk about. But even by the historical standards of this digital currency, we've come off a busy and unusual week that saw a flurry of mainstream interest in Bitcoin.
Will the Real Nakamoto Please Stand Up?
The biggest news came late last week, when the recently re-launched print edition of Newsweek highlighted its first issue by reportedly outing the identity of the mysterious Satoshi Nakamoto, known to Bitcoin enthusiasts as the father of the digital currency. The man they identified was Dorian Satoshi Nakamoto, a man living in Temple City, California.
That set off a firestorm, as reporters from countless news agencies launched on a chase after Nakamoto in order to get some comments from the man who might be behind Bitcoin.
When dozens of reporters surrounded his two-story house Thursday, he made some rather interesting demands for anyone who wanted to talk to him.
"Wait a minute, I want my free lunch first," Nakamoto said, referring to asking for a reporter who understood Japanese and who would buy him a free lunch.
"I'm going with this guy," he added, indicating a reporter from the Associated Press (AP) news service; and he ultimately did get lunch at a sushi restaurant before heading to the AP's offices in Los Angeles. On their way, the reporter and Nakamoto were followed through L.A. by a throng of reporters, creating a bizarre – and amusing – car chase that was quite different in tone and intensity from the famous O.J. Simpson chase nearly 20 years ago.
Nakamoto had some more pertinent things to say as well.
"I'm not in Bitcoin, I don't know anything about it," he said while fleeing his home.
Misquoted or Misunderstood
Later, in his AP interview, Nakamoto elaborated on his remarks. He claimed to be misquoted – or rather, simply misunderstood – in part of his short interview with Newsweek, where he told the reporter, "I am no longer involved in that and I cannot discuss it."
Nakamoto said he had not said that – at least not in those particular words.
"I'm saying I'm no longer in engineering. That's it," Nakamoto told the AP. "It sounded like I was involved before with Bitcoin and looked like I'm not involved now. That's not what I meant. I want to clarify that."
Members of the Bitcoin community have debated whether or not Nakamoto is the Nakamoto, with a message from the account which first introduced Bitcoin to the world saying that "I'm not Dorian Nakamoto." The Bitcoin Foundation has said that they have no "conclusive evidence" that Dorian Nakamoto is the original designer of Bitcoin. Meanwhile, Newsweek writer Leah McGrath Goodman has stood by the story, saying that her conversation with Mr. Nakamoto was clear.
"There was no confusion whatsoever about the context of our conversation – and his acknowledgment of his involvement in Bitcoin," Goodman said.
The story on Nakamoto hasn't completely taken attention away from the saga of MtGox, the beleaguered Bitcoin exchange. Having already filed for bankruptcy protection in Japan just recently, the company did the same in the United States on Sunday, doing so in a Dallas court. The move may be a reaction to a class-action suit filed against MtGox in Chicago.
The collapse of MtGox has also earned it some extra scrutiny from U.S. politicians. Senator Joe Manchin (D-West Virginia), a member of the Senate Banking Committee, asked regulators to ban its use due to concerns over its use to bankroll illegal activities in the United States and abroad.