Stations Casinos Jumping into the Mobile Sports Betting Fray
Posted on: July 31, 2013, 05:30h.
Last updated on: July 30, 2013, 12:54h.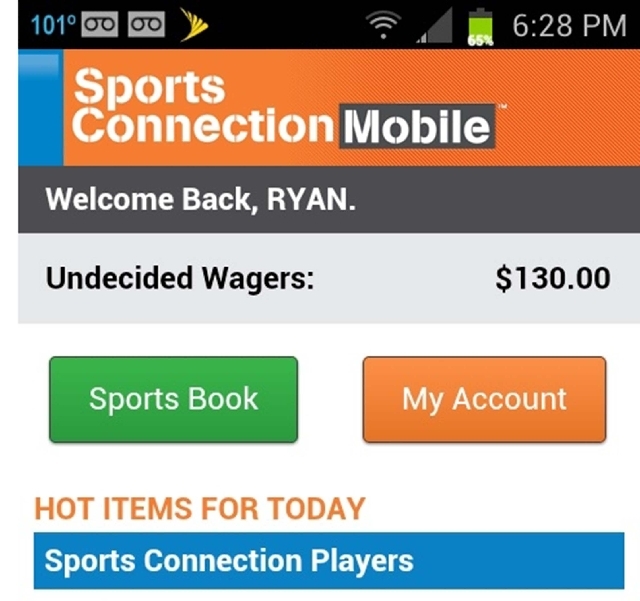 The delicate dance between land casinos and online wagering continues to unfold, as Nevada's first legal and regulated online poker site provider, Stations Casinos, is now launching a sports betting application for mobile device users.  Named Sports Connection Mobile, the app means that gamblers can now bet on their favorite sports from the ease and comfort of their mobile devices and tablets.
Going Public
Recently approved by Nevada's gaming overseers after a rigorous field trial, Sports Connection Mobile can now go beyond its initial marketing field of just Stations' 16 Southern Nevada casino customers, and spread its wings to the general populace (including tourists) of the Silver State. And not a moment too soon, with football season just around the corner.  Needless to say, the financial potential is predicted to be profound once this right-in-your-hand legal bookie system catches on.
"I think this is fantastic for the growth potential of the sports wagering industry," said Station Casinos Vice President of Sports Book Operations Art Manteris.
Stations is not the first to go mobile, though; well-known sportsbook operators William Hill and Cantor Gaming beat them to the punch.  As with online poker, in order to place a wager, players will need to be physically located and traceable via mobile GPS within the borders of Nevada.
As with their online poker site, there will be a back-and-forth flow between Stations' brick-and-mortar customers and their mobile ones, as player rewards will be accrued for either and both, giving gamblers more customer power more quickly. Any wins and player rewards can then be redeemed from any Stations Casinos property in Nevada.
"That's a big difference because it ties our application to our casinos," said Manteris of the new Stations' mobile app.
Still Live Appeal
Will the ability to bet from home mean fewer actual casino customers show up to bet live? Manteris says no. "There is still nothing like watching the event in one of our books. But we know that sometimes life gets in the way. The application keeps a customer in the game."
Stations is making sure as many customers stay in the game as possible; they've developed software for iPhones, iPads, Androids and have a Sports Connection Intranet product that presumably will cover anyone else.  Anyone of legal age (21+) can sign up for the app at any Stations Casino sports book, or at the downtown El Cortez; Stations is now managing that property's sports book. A $50 wagering deposit is required upon signup. Bet minimums will be $5 and bets may be placed on all major sporting events.  Players will be able to reload with either cash, credit cards or debit cards, but it must be done in person. Wagers include parlay cards, straight bets, teasers, prop bets, round robins and in-game wagering.
William Hill and Cantor Gaming were recently forced to convert all their sports betting kiosks to mobile sports betting adjuncts only in any of the Nevada smaller bars and taverns that had limited gaming licenses (15 slot machines or less); the lobbying organization, American Gaming Association, that represents the interests of many land casinos claimed the miniscule action was cutting too heavily into their casino customers' business.
Now – as William Hill and Cantor Gaming already have mobile sports betting apps on the market – let the wagering wars begin.