Spanish Gambling Operator Codere Losing Bets in Latin America
Posted on: June 13, 2013, 05:30h.
Last updated on: June 12, 2013, 06:54h.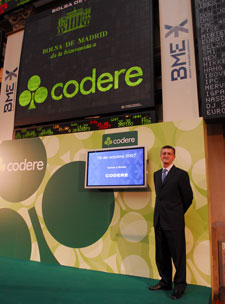 Over the past decade, many major Spanish companies have invested heavily in Latin America, taking advantage of the emerging markets there and the linguistic ties shared with many of the region's nations. It's no surprise, then, that this investment strategy has also been tried by Codere, one of the largest gambling operators in Spain. Unfortunately, they haven't seemed to be able to reap the benefits of this rapid expansion.
Over-Extended Investments
Struggles in Mexico, Argentina and other markets – combined with a recession in Spain – have left Codere with little to show for their expansion and €1.12 billion ($1.49 billion) in debt. That includes €100 million ($133 million) in debt maturities this month alone, including a €29.5 million ($39.2 million) loan that needs to be paid back this week. According to a Wall Street Journal report that referenced sources with knowledge of the negotiations to refinance this loan, there may be as much as a 50/50 chance of Codere defaulting.
The catastrophic debt load comes after an expansion into many different Latin American markets by Codere – a move that seemed to be working, at first. Now the largest brick-and-mortar casino operator in Mexico, Codere is also a major player in the Argentinean market. They additionally operate casinos in Brazil, Panama, Uruguay, Colombia and Chile.
But the move to open so many new casinos may have been too much to handle for a company that was large, but not so large as to be able to handle taking on that much investment at once. The new properties are profitable in a vacuum, but perhaps not enough to overcome the debts the company has incurred by the meteoric expansion into new markets.
Smoking Ban Has Hurt Business
Codere says that they'd be doing better in Latin America if not for two major setbacks. First, Argentina's recent public smoking ban has hurt business in Codere's 14 gambling halls in the Buenos Aires area, which helped cause a 42 percent drop in operating revenue during the first quarter of this year. New regulations in Mexico in the wake of a drug cartel-related fire at a Monterrey casino, have also hurt Codere, causing them to bleed money in their two most important Latin American markets.
Regardless of the reasons behind the struggles, Codere will need cash in a hurry in order to pay off their debt. According to the company, they could either choose to sell assets in an effort to pay back debt directly, or push for an initial public offering of stock in Mexico, though that would be a longer- term solution to their massive debt problems.
Similar Guides On This Topic