South African Man's Losing Lottery Ticket in Keystone Kops Mess
Posted on: October 25, 2013, 05:30h.
Last updated on: October 26, 2013, 04:21h.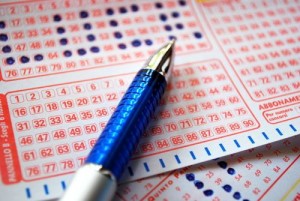 A young man from Hillcrest, KwaZulu-Natal in South Africa – who laid claim to a National Lottery prize of R33 780 698 ($3,470,796) recently – was not only the victim of a crime, but also the victim of not reading the correct date on the ticket; something a lot of us could probably relate to, we're sure.
Robbed by Cops?
The non-winner – 26-year-old Sipho Ngcobo – was allegedly relieved of his ticket by thieves dressed up as police officers who became jealous of his boasting and saw a way to make some easy money (so they thought) by taking it upon themselves to visit the home of the winner with firearms. As a result, he and his family opened up a case of theft and the real police began investigating the incident.
However, it's now been confirmed by South African authorities that Ngcobo had the wrong date; in fact, he didn't even purchase his ticket until Oct. 14, and his ticket was actually for the October 16 draw; the winning ticket in question was for October 13. So even though his numbers were right, his date was wrong, and timing, as they say, is everything.
No-Name Winner Vindicated
This should come as great news to the actual (unnamed) winner; local newspapers said Mr. Anonymous had already claimed his prize at a Spar outlet in Wartburg over eight hours before the alleged robbery even took place, making it impossible for the winning ticket to have been stolen.
The man who legitimately claimed the prize had chosen to remain anonymous out of fears that his winnings could place him in danger in his community, but he was seen on CCTV footage celebrating in the store upon finding out the amount he had won.
"I had bought the ticket on Thursday the week prior from a shop in this area," the faceless winning father of four said. "I didn't watch the draw on Saturday and I only saw the results on Monday. I had to look twice and I was shocked and still didn't really believe it until I saw the printout on the screen."
He can breathe a sigh of relief, not to mention access his winnings now; until the matter was resolved, everything was in lockdown, kind of taking the thrill off a big lottery win, you might say.
"My bank account has been frozen because of the case that has been opened and no police have come to speak to me," explained the winner woefully. "There is so much evidence that their story is a lie.
"These people are telling lies. They say the winning ticket was stolen on Monday night, but if you see the CCTV footage it shows I was there in the morning, and if you look at the attendance register at the Gidani building in Durban, they will see I went there before 3pm."
The really big losers here, it would appear, are the "robbers" (if they exist) who will certainly be pretty annoyed to find out that they went to the trouble of stealing a losing ticket.
Similar Guides On This Topic
Most Read