Singapore Remote Gambling Bill Passes, Banning Internet Play
Posted on: October 10, 2014, 07:00h.
Last updated on: October 9, 2014, 06:49h.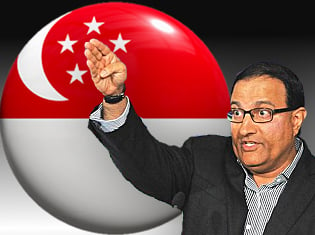 The Singapore Remote Gambling Bill passed that country's parliament on Tuesday, ushering in a wide ban on online gambling activity in the country. The vote came after three hours of debate, during which some members of parliament lobbied for even stronger standards that would have eliminated exemptions to the law.
Under the new Singapore law, only a very small and specific set of operators will have the opportunity to apply for an online gambling license in the country. In order to qualify, organizations will have to be not-for-profit groups based in Singapore that contribute to a social cause. They will also need to have had a track record of compliance with gaming laws in the past.
Policy Mirrors Land-Based Rules
"We prohibit gambling, unless it is specifically allowed for by way of a stringently regulated exemption or license," said S. Iswaran, Second Minister for Home Affairs. "We will adopt a similar approach to remote gambling."
Iswaran said that the point of such laws wasn't to promote or condone online gambling, but to control the activity and the consequences it could cause.
"It is part of an ecosystem that minimizes the law and order concerns and social consequences [we are] concerned about," Iswaran said.
The new law will make it illegal to operate an online gambling site in Singapore without a license. However, it will also turn simply playing on such a site into a criminal offense. Financial institutions and advertisers could also face penalties for working with unlicensed sites.
According to some MPs, such measures were necessary because of the harm online gambling causes to Singaporeans.
"Online gambling is borderless," said MP Dr. Lee Bee Wah. "Even if there's a system put in place such as an age limit, they can always go around the system."
Some MPs Wanted Total Ban
But despite the fact that the new laws will give Singapore some of the strongest controls over the online gambling industry found anywhere in the world, some MPs still felt that they should have gone farther.
"To me, probably one of the biggest flaws is it's not a total ban – that in fact it allows for exemption of operators, sending the signal that 'yes online gambling is bad, society does not like it but if it's done through approved operators than it's something that's tolerated,'" said MP Denise Phua. "I do think the message ought to be stronger – just like the way we sent a message on extramarital affairs, how we completely blocked Ashley Madison from coming in. So to me I would advocate a total ban." Ashley Madison is an online "dating" site that advocates casual sexual encounters between already married participants.
One of the other major issues was over whether the ban would extend to social games that didn't constitute gambling. There were concerns that language regarding virtual currencies could result in a block on games that include micro-transactions, such as Candy Crush Saga.
But Iswaran said that this will not be a problem, as the bill doesn't ban anything unless players can "convert in-game credits or tokens for money or real merchandise outside the game."
Along with the stringent controls, MPs also stressed the importance of education and awareness in minimizing the harm that could be caused by gambling.
"We have to stay alert to the challenges that emerge every day and to stay abreast of the technological changes and to stay abreast of the evolving challenges," said Chan Chun Sing, Minister for Social and Family Development.