Short Stack Donald Trump Shoves Against Hillary Clinton in Second Presidential Debate
Posted on: October 10, 2016, 12:00h.
Last updated on: October 10, 2016, 11:44h.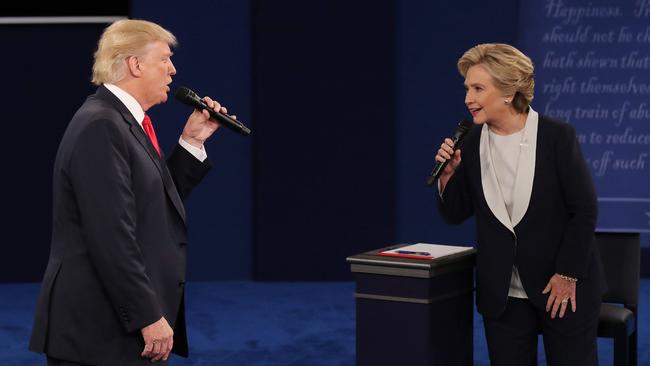 Donald Trump entered the 2016 presidential election against Hillary Clinton as the severe short stack.
He's only hurt his chances over the last week after a video from 2005 surfaced with the Republican candidate boasting about grabbing women by the genitals. Before last night's second presidential debate in St. Louis, Trump's run at the Oval Office seemed to be blind on what little hands it had remaining to play against Clinton.
On Sunday night, Trump came out swinging. The former casino bigwig downplayed his lewd remarks, and attacked Clinton on her email scandal and said if he were president, she'd "be in jail."
The 2005 video with "Access Hollywood" was one of the first subjects to be discussed.
"I'm very embarrassed by it, I hate it, but it's locker room talk," Trump said. "I have great respect for women."
"If you look at Bill Clinton, far worse," Trump stated. "Mine are words. His was action. Bill Clinton was abusive to women. Hillary Clinton attacked those same women."
Clinton, while not directly defending her husband, said, "This is who Donald Trump is. With prior Republican nominees for president, I disagreed with them on politics, policies, principles, but I never questioned their fitness to serve. Donald Trump is different."
Markets Shift
Many political pundits are labeling the 2016 presidential season as perhaps the most distasteful election in US history.
Even prior to the surfacing of the Trump audio with him telling television host Billy Bush that he tried to move in on a married woman, Clinton was the favorite among the sportsbooks overseas. Both candidates certainly have his and her own flaws, but for those placing money on the November 8 outcome, Clinton is still in the commanding position to become commander-in-chief.
The Bovada line on the presidency has Clinton at -425 and Trump +325. Irish bookmaker puts the former first lady at 2/9, and her Republican challenger at 10/3.
PredictIt.org, a prediction market that operates in a quasi-legal status, sells shares of candidates similar to buying stocks on Wall Street.
Clinton is currently trading at 80 cents per share, while Trump is at penny stock status at 23 cents. Last week, Trump was selling for over 30 cents.
Trump Self-Funding With Adelson Funds
Las Vegas Sands billionaire Sheldon Adelson is emerging as the biggest GOP donor in 2016. With the Koch brothers unsatisfied with Trump and largely sitting the election season out, Adelson is stepping up to the table and opening his wallet.
Worth over $30 billion according to Forbes, Adelson is reportedly spending up to $100 million this year on political efforts. Those funds are primarily going towards defeating Clinton.
Adelson attended the first presidential debate in New York, but was absent from the second contest. Adelson's position on Trump's latest controversy is unclear.
During the debate, Trump seemed to act as if his campaign was running free of super PACs funded by billionaires like Adelson.
"I'll have more than $100 million invested," Trump declared. "Pretty much self-funding money. We're raising money for the Republican Party, and we're doing tremendously on the small donations."
The third and final presidential debate will take place on October 19 in Las Vegas.
Most Read