Sheldon Adelson Outspent by Online Gambling Lobbying
Posted on: July 30, 2014, 05:30h.
Last updated on: July 29, 2014, 02:57h.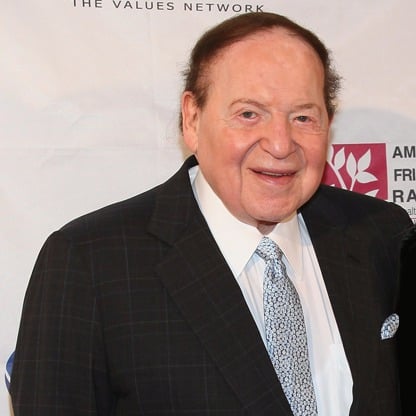 Las Vegas Sands CEO Sheldon Adelson may see online gambling as a threat to his land-based casinos, but online gambling proponents see Sheldon Adelson as a threat to their existence as well. Perhaps that explains why both sides of the Internet gambling debate have had no trouble flashing some cash in their efforts to either protect or destroy online gambling in the United States.
One of the major battlefronts is winning over key legislators in Congress who could push through bills or stall the efforts of opponents. As you'd expect, there's been plenty spent on lobbying from all sides of the gaming industry on the issue of Internet gambling. What you might not have guessed is that billionaire Sheldon Adelson is actually being outspent by his opponents, and by a significant margin.
Caesars Significantly Outspending Sands
According to data at OpenSecrets.org, a site that tracks all publicly available information on political contributions, the Las Vegas Sands Corp. spent $290,000 during the second quarter of 2014 on their lobbying efforts to stop online gambling. That brought their total for the year to $460,000.
That's not insignificant in the world of lobbying, and the results have shown in the introduction of bills like the Restoration of America's Wire Act. But it's still just a drop in the bucket compared to what some of the companies in favor of expanding online gambling have tossed to politicians this year.
In particular, Caesars Entertainment has been a big spender in this area. According to OpenSecrets, Caesars has spent nearly $1 million in the second quarter and $1.8 million in the first half of 2014, enough to outspend the Sands by a nearly 4-1 margin. Add in the $240,000 spent by MGM Resorts International last quarter and another $230,000 from Boyd Gaming along with smaller contributors, and that margin grows to 5-1 in favor of companies that want to see online gambling regulated in the United States.
Numbers Capture Small Percentage of Total Spending
But there are several major caveats to these numbers. These figures only reflect how much has been spent on registered lobbyists in Washington, which is a very narrow view of how much the various organizations are really spending on their efforts. They don't account for outside spending, such as money spent on advertising campaigns. They also don't include the personal contributions made to politicians by individuals in these companies, or efforts at the state level.
It's clear that Adelson is spending far more than those numbers would suggest. After all, the Coalition to Stop Internet Gambling has already produced videos attacking online gambling, and Adelson has said he'd be willing to spend "whatever it takes" to prevent online gambling in the United States. The casino mogul is certainly willing to put his money where his mouth is: in 2012, he and his wife Mariam reportedly spent $92 million on donations to political candidates, most notably to losing Republican presidential candidate Mitt Romney.
While it's unlikely that a bill to ban online gambling throughout the country will gain any traction, Adelson's strategy so far does seem to be working in some sense. The window of debate currently seems to be focused on his bill to ban Internet gambling at the federal level, rather than on any efforts to regulate online casino games throughout the country.