Sheldon Adelson Confirmed as New Las Vegas Review-Journal Owner
Posted on: December 17, 2015, 03:00h.
Last updated on: December 17, 2015, 03:29h.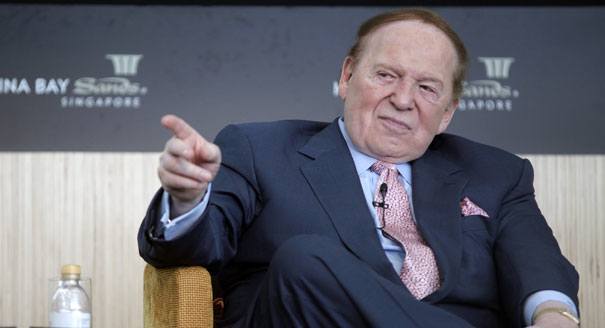 Sheldon Adelson has been unmasked as the new owner of the Las Vegas Review-Journal, having been exposed by the very newspaper he had anonymously purchased a week earlier.
As reported here earlier this week, LVRJ staff were puzzled and a little dismayed to learn last Thursday that the newspaper had been sold to a mystery owner for $140 million.
All they were told was that a newly incorporated company, News + Media Capital Group, was now at the helm and they should ask no more questions.
"They want you to focus on your jobs … don't worry about who they are," was the pep talk offered by one Michael Schroeder, a News + Media Capital Group manager at the first staff meeting under the new ownership.
And while Schroeder assured staff that their editorial independence would not be compromised by their new mystery owner, a front page story on the sale that evening was redacted at Schroeder's request to remove references to the proprietor's anonymity.
Calls for Transparency
It wasn't just LVRJ's people who were alarmed, as other journalists began calling for transparency too, and the story spread as speculation grew. As Esther Thorson, research director for the Reynolds Journalism Institute at the Missouri School of Journalism, told the Los Angeles Times, the sale of a newspaper to an owner or organization that refuses to be identified is unprecedented in media history.
Furthermore, the premium price paid by the buyer suggested they were interested in buying political clout, rather than a considered financial investment, which made it all the more important that their identity and affiliations be disclosed.
The fact that LVRJ is the dominant media outlet in the early-voting swing state of Nevada suggested to many that the buyer might be a wealthy conservative, and Adelson's name began to be cited by speculative commentators.
Public Statement
Meanwhile, faced with a conundrum, RJ staff did what good journalists do: they started digging for answers. Or as Schroeder had put it, they "focused on their jobs."
Sources eventually revealed that Patrick Dumont, Adelson's son-in-law and senior vice president of finance and strategy at Las Vegas Sands Corporation, had brokered the deal between News + Media Capital Group and its former owner, New Media Investment Group.
"He [Dumont] handles all the investments for the family," claimed an LVRJ source.
For all the LVRJ staff knew, they could have been risking their jobs by printing the story, but that doesn't appear to be the case. Instead, the Adelson family made a formal announcement of their ownership of the newspaper just hours after the story broke.
Meanwhile, whatever Adelson's specific reason for getting his hands on the LVRJ, be it business or politics, his position at the helm may well sit uneasily with most journalists. Adelson already owns newspapers in Israel, but he's also had a tendency to sue journalists, individually, for libel in the past.
One such journalist was current LVRJ columnist John L. Smith, whose 8-year-old daughter was suffering from brain cancer at the time of the litigation. His daughter ultimately survived, but Smith was pushed into bankruptcy.
Adelson eventually agreed to dismiss the case with prejudice, after Smith's lawyer successfully argued that the case was not about defamation, but about Adelson making an example of those who crossed him.
The suit was in response to a probing book that included information Adelson had considered defamatory, rather than anything Smith had written at the Review-Journal. It will be interesting to see how that relationship unfolds with this new saga.