Seven Years In, Cosmopolitan of Las Vegas Ready for $100 Million Overhaul
Posted on: August 12, 2017, 10:00h.
Last updated on: August 13, 2017, 10:02h.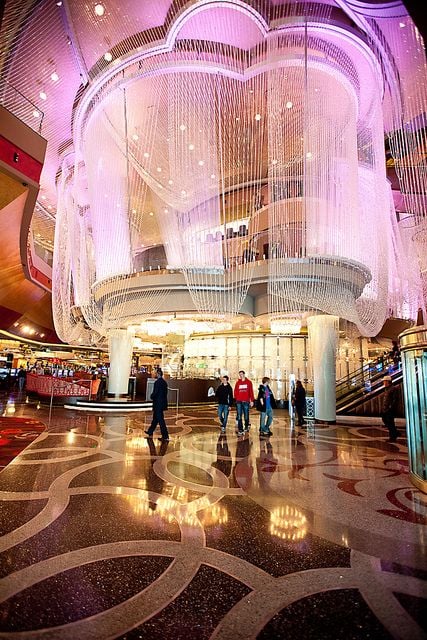 As executives at the Cosmopolitan of Las Vegas get ready to spend more than $100 million in renovations to 2,895 of the property's 3,027 rooms, they must be taking stock of how different the economic climate is in 2017. When the $3.9 billion property opened on December 15, 2010, it was at the height of city's worst recession in decades, and the outlook for the Cosmo's future wasn't necessarily rosy.
In fact, almost from the beginning, the Cosmopolitan has had a rocky road, paved with several lawsuits, and an often uncertain future.
Bad Timing
Deutsche Bank AG moved in 2008 to foreclose on the original owners' group, comprised of Soros Management Fund, a former Las Vegas Sands executive, and a real estate developer.
Later that year, the Hearst Corporation filed a trademark suit, claiming the name was the same as that of their well-known women's magazine. The case was settled out of court, and it was agreed the hotel would be called Cosmopolitan of Las Vegas to differentiate it, at least on paper.
Deutsche Bank continued its search for an owner for the resort, but despite companies such as Marriott, Hyatt, and Hilton expressing interest, agreeing on a price was a constant sticking point.
In 2009, the Cosmo was back in court, this time facing a lawsuit from 400 homeowners who feared the condos they had paid deposits for would be turned into hotel rooms. That case was also settled before it went to trial.
A year later, the casino resort began to open in stages. Four years later, Deutsche Bank finally sold the property to Blackstone Group for $1.73 billion.
Facelifts to the Bone
The latest renovation plans include stripping the rooms all the way down to concrete and drywall, according to Patrick Nichols, senior vice president of strategy and business development. Nichols told the Las Vegas Review-Journal that work began in June on the Boulevard Tower and is expected to be completed by the end of this year.
Work on the resort's second tower, Chelsea, will begin in January with anticipated completion before the end of 2018. Each of the rooms will include new furnishings, fixtures, 65-inch flat screen TVs, and pre-programmed tablets to improve service efficiency.
The design firm selection process was a lengthy one, as officials at the hotel solicited 20 companies to submit their ideas a year ago. The list was narrowed to eight, and then down to four. An approximate $2.5 million was spent to build 14 model rooms before a winning firm was ultimately selected.
Last year, an undisclosed sum went towards sprucing up the Cosmo's Chandelier Bar.
Trying to Keep Up
While other cities form historic preservation societies, Sin City is constantly ripping out the "old" (which may have gone in less than a decade prior), and replacing it with newer, hipper, and trendier.
MGM Resorts announced last year that the Monte Carlo would be getting $450 million worth of work, with the end game being to create two boutique hotels. The Park MGM and the oddly named NoMad Las Vegas are slated for late 2018 openings. And Caesars officials plans to shell out in the range of $100 million to give the iconic but very worn down Flamingo an overhaul, along with Planet Hollywood.
Officials at Planet Hollywood and the Flamingo said Caesars Properties will shell out about $100 million each to update those places. The company also said it has plans to spend a similar amount on refreshing Bally's.
Similar Guides On This Topic