Russia 2018 World Cup Draw Produces Mostly Balanced Matchups for Group Stage
Posted on: December 1, 2017, 06:00h.
Last updated on: December 1, 2017, 05:26h.
The official draw for the 2018 FIFA World Cup was held in Moscow on Friday, and produced a draw that doesn't threaten any tournament favorites. Opening odds at sportsbooks responded to the parity by moving little, leaving bettors to guess where they'll see inevitable big surprises.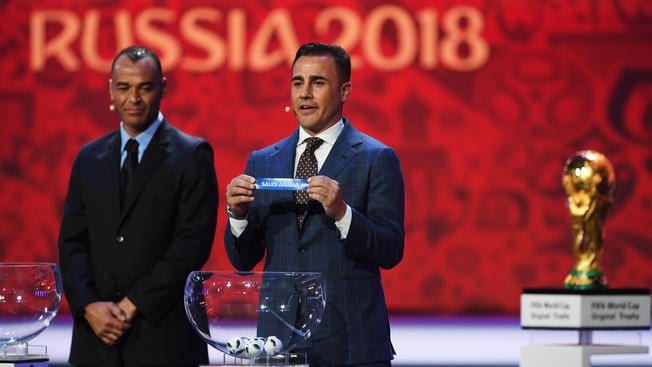 The draw took place at the State Kremlin Palace, with Russian President Vladimir Putin in attendance for the festivities. Soccer legends such as Diego Maradona were on hand to help with the procedures, with everyone watching around the world wondering which teams would end up in this World Cup's "Group of Death."
Germany Draws Mexico and Sweden
Instead, the resulting pools were relatively balanced compared to some recent World Cup draws, though there are still teams that will be happier than others. The closest thing to a Group of Death is likely Group F, where perennial favorites Germany will face off with always dangerous sides Mexico and Sweden, with a reasonably strong South Korean side rounding out the group.
At Paddy Power, Germany has been installed as a 3-10 favorite to win the group. But the second team to qualify is up in the air: Mexico is listed at 5-1, with Sweden at 11-2. The bookmaker has South Korea at 25-1, though other oddsmakers have given them somewhat better chances to qualify.
One team that will be ecstatic with their draw is Russia. The hosts play in Group A, where they'll have to contend with Uruguay, but they did not draw any European opponents. Instead, their group includes Egypt and Saudi Arabia.
That gives the host country every opportunity to make through to the second round: while Uruguay is an even money favorite to win the group, Russia is just behind them at 6-5, with Egypt also being given reasonable odds to win the group at 11-2. The minnows here are the Saudis, who are 35-1 underdogs to win Group A.
Balance Gives Hope for Advancement
Several groups have no clear longshot, suggesting that all four nations go into the tournament believing they have a shot for a deep run. Group D, for example, features perennial powerhouse Argentina with Croatia, Nigeria, and Iceland. The grouping creates a pool where every game could be competitive, even if the Argentinians are clear favorites.
Similarly, Colombia, Poland, Senegal, and Japan are together in Group H, making for another pool where no team can feel entirely comfortable about advancing.
Overall, the draw didn't shake up the odds for the pre-tournament favorites. Germany has perhaps the most difficult waters to navigate. Paddy Power still has the Germans as co-favorites, with Brazil, at 5-1. Brazil will face off against Switzerland, Serbia, and Costa Rica in Group E to start the tournament.
Spain and France follow close behind, with each receiving 6-1 odds to win the tournament. Spain will start their campaign with an exciting rivalry match against Portugal, but should advance easily regardless of the result, as they then play Morocco and Iran.
France drew Denmark, Peru, and Australia in their Group C pool, a medley where anything seems possible.
The 2018 FIFA World Cup will take place in Russia from June 14 to July 15. In the first game, the world will see Russia take on Saudi Arabia at Luzhniki Stadium in Moscow.