RNC Brings Out Las Vegas Power Brokers for Trump, Cruz Rebuffed by Adelson
Posted on: July 21, 2016, 10:03h.
Last updated on: July 21, 2016, 11:21h.
At the Republican National Convention (RNC) on Wednesday night, all hell broke loose.
Las Vegas power brokers flexed their muscle in support of now-affirmed GOP nominee Donald Trump, and Texas Senator Ted Cruz made an appearance that didn't sit all that well with one of those power brokers in particular.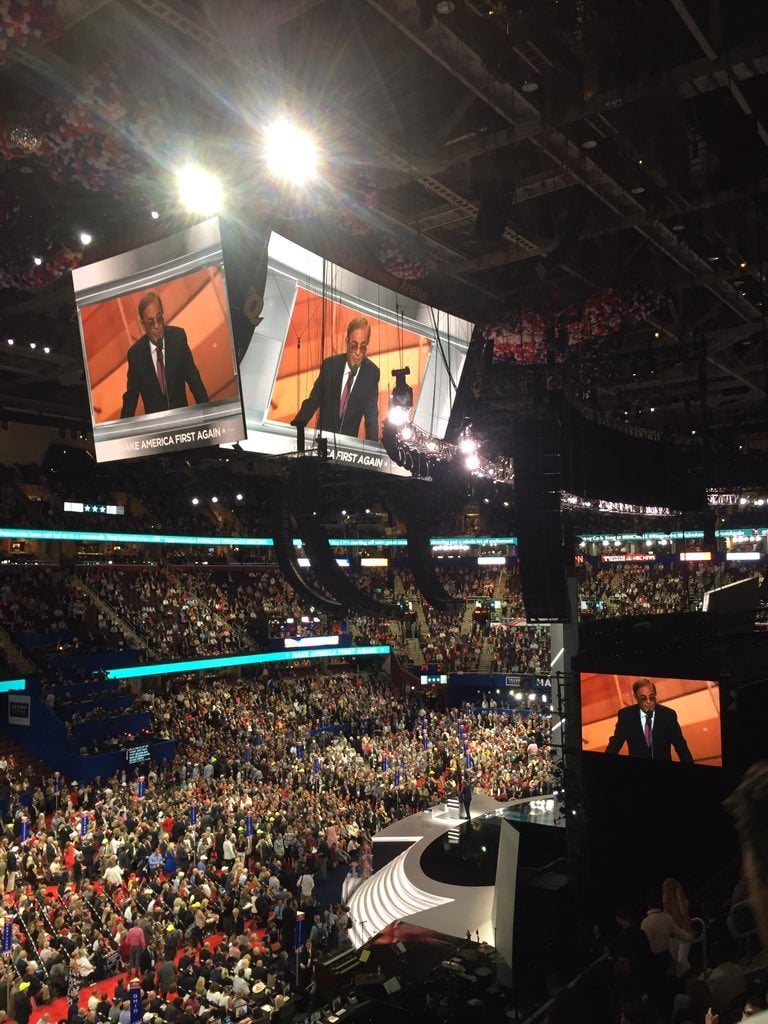 Billionaire businessman and longtime Trump friend Phil Ruffin, who owns Treasure Island on the Las Vegas Strip, spoke to the delegates and audience at the packed Quicken Loans Arena in downtown Cleveland. (See Ruffin's entire presentation below this story).
Ruffin is a 50 percent owner of the Trump International Hotel and Tower (a non-gaming property) in Vegas with his friend, having donated the land that was once beneath the New Frontier, which Ruffin owned.
Meanwhile, Las Vegas Sands Chairman Sheldon Adelson, the man dumping $100 million into the Trump campaign, quietly observed from his VIP suite.
Ruffin told the RNC that Donald's "word is his bond," and that if he tells you something, "put it in the bank." The two high-powered businessmen have a multi-decade history of friendship and business deals.
But the close Trump ally raised some eyebrows when he discussed working with the presidential candidate in Sin City.
"We had $500 million in debt, Donald does not give up," Ruffin said, while explaining how the economic recession in 2007 impacted the project. "He said, 'Let's go forward' . . . Today, we have no debt, so we're going to make a lot of money on it and it's become a huge success."
Opponents quickly questioned whether the reversal of fortune was at the expense of contractors and construction workers. That's what those in Atlantic City have been alleging was the outcome during Trump's 20-something years in the casino business in New Jersey.
Ruffin said Trump always pays his bills on time, but PolitiFact pointed out that at least 60 lawsuits have been filed over the years against Trump for failing to pay for services rendered.
On Thursday night, the final night of the Republican confab, Trump himself will make his case to the American public when he addresses the RNC.
Upstaging Cruz
With the RNC having formally nominated Trump the day before, Wednesday evening was supposed to be the first day of the GOP unification. As it turned out, it was anything but.
Numerous GOP heavyweights echoed support for the billionaire candidate, including former presidential aspirer Wisconsin Governor Scott Walker, former House Speaker Newt Gingrich, and Trump's own recent vice presidential pick, Indiana Governor Mike Pence.
But it was Trump's largest runoff foe, Texas Senator Ted Cruz, who stole the show, albeit for all the wrong reasons.
Much speculation echoed throughout the arena prior to the Texan's speech on whether he would finally endorse Trump, thus keeping his word to the primary pledge.
He didn't.
The New York delegation (headed by Donald Trump, Jr.) grew angry during Cruz's lengthy speech. They chanted for him to officially back their man, to which the senator paused, and acknowledged their "enthusiasm" in a clearly sarcastic tone of voice.
Cruz urged voters to "vote your conscience, vote for candidates up and down the ticket who you trust to defend our freedom, and to be faithful to the constitution." The line was seen by many as urging conservatives to not abandon Republican candidates simply because they don't like Trump. Nor did it ever mention the presidential nominee, in a rather obvious sin of omission to the increasingly restless crowd.
When it became apparent that Cruz wouldn't be taking a page out of the Reagan playbook by making a grand endorsement during the convention, Trump, who had briefly appeared on stage earlier to shake his new VP's hand, entered the building to resounding applause. Waving and smiling, he appeared a bit like a Roman emperor at a gladiator game.
The chaos overshadowed Cruz's closing remarks and the senator was soundly booed off the stage by The Q audience.
Adelson Brushes Off Cruz
Worth about $30 billion, depending on what the stock market did that day, Sheldon Adelson and his wife Miriam are the biggest Las Vegas power brokers in 2016. And even fellow billionaires like Trump require big money from big donors to go the distance in a presidential contest.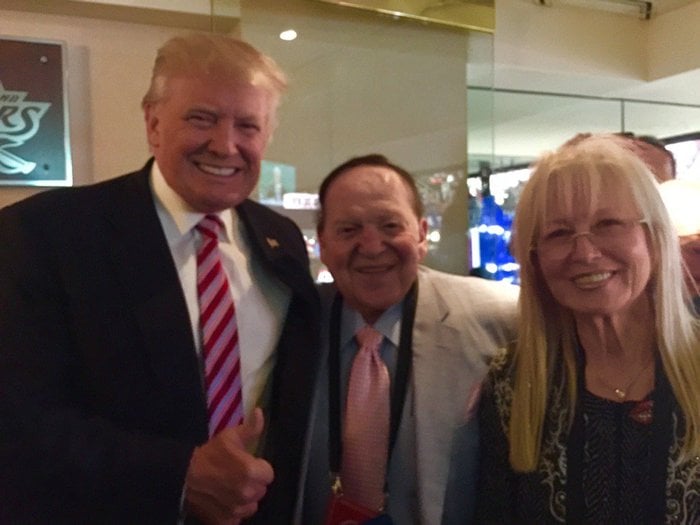 Cruz's speech might have put him in good graces with the "never Trump" faction, but it also cost him one very wealthy, now former, friend.
According to various reports, including CNN's Dana Bash, Cruz was turned away from the casino tycoon's upscale Q suite after his speech.
The Texan has already hinted at running for president in 2020, regardless of Trump's outcome versus Hillary Clinton. Cruz's campaign will likely need to do it now without Sheldon Adelson's support, should he opt to run.