Resorts World Catskills Opens with Promise to Rejuvenate Region
Posted on: February 9, 2018, 06:00h.
Last updated on: February 9, 2018, 02:08h.
Resorts World Catskills flung open its doors on Thursday morning. And nine minutes after the biggest of New York State's four new commercial casinos opened for business, we had a winner from among the throng of people checking out upstate New York's newest attraction.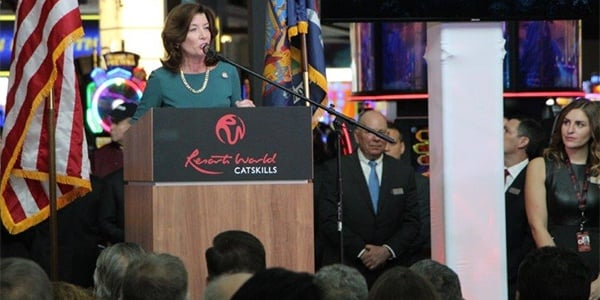 "It was so exciting to be the first one to cash in a ticket," a woman, known only as "Alice," told The Times Record-Herald after she pocketed the casino's first slot payout of $121.36. "I walked up and they said, 'Wow. We got a winner already.'"
It's just over four years since state residents voted to legalize full-scale commercial casino gaming, and two years since Malaysia's Resorts World Genting was granted a license to develop and operate the new resort. Now, two decades on from the closure of the famous Concord Hotel, the region once again has what state officials are praying is a tourist magnet.
This is the rebirth of the Catskills. You heard it here first," declared New York State Lieutenant Govenor Kathy Hochul. "The days of New York state losing casino money to other states is over, I've officially declared it over."
Faded Glamour
Resorts World is built on the site of the of the Concord, which was the region's biggest hotel during its "Borscht Belt" heyday. From the 1920s to 1970s the Catskills was a roaring summer vacation resort for especially Jewish New Yorkers, until the rise of cheaper air travel and package vacations to more exotic destinations drained it of visitors and blighted its economy.
New York's four new casinos are all about economic revitalization, and Resorts World is hoping to lure back visitors from the New York metropolitan area – just like the old days.
Around 100 hotel rooms were available on Thursday, with a further 300 more to follow. Also to follow later this year are an indoor water park and 18-hole gold course.
Will New Yorkers Come Back to the Catskills?
But its three predecessors into the market – Tioga Downs in Nichols in the Southern Tier, Del Lago Resort in Seneca County and the Rivers Casino Resort in Schenectady – have reported disappointing revenues so far.
Moody's noted last month that Resorts World would be entering a "very tough gaming market" and predicted it would cannibalize business from its competitors in the state.
When the The Times Record-Herald asked Genting Group chairman and CEO KT Lim whether he was concerned about market saturation he replied that we wasn't.
"No," he said. "As you can see it's a wonderful facility. We'll be able to hold our own. It's a true resort setting here. As we get into the summer, the golf course and the water park will come online. These are world-class facilities."