RAWA Sponsor Lindsey Graham Considers 2016 Presidential Run
Posted on: January 30, 2015, 12:59h.
Last updated on: January 30, 2015, 01:07h.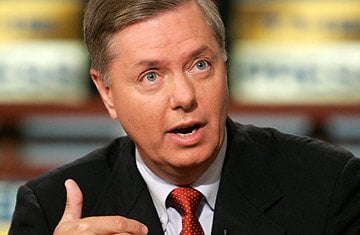 Lindsey Graham, the Republican Senator for South Carolina, who, along with Representative Jason Chaffetz (R-Utah), is co-sponsor of Restoration of America's Wire Act (RAWA), is weighing the possibilities for a 2016 run at  the presidency.
Graham this week established a committee known as "Security Through Strength" that will explore whether a bid for the GOP presidential nomination is viable.
"What I'm looking at is, is there a pathway forward on the ground in Iowa and New Hampshire for a guy like me? I don't know until I look," said Graham.
Graham's RAWA bill, if passed, would effectively ban all forms of online gambling at a federal level, apart from horse racing betting and fantasy sports. No exemptions would be made for the states that have already legalized and regulated Internet gaming within their borders, making its passage seem like a long shot at best.
And Graham is not the only opponent of online gambling with his eyes on the candidacy. Former New York Governor George Pataki, co-chair of Sheldon Adelson's Coalition to Stop Internet Gambling, announced earlier this month that he is "seriously considering" a run.
Backed by Adelson
Both men may be emboldened by the possibility of backing and campaign contributions from Adelson, who has donated over $100 million to Republican causes over the years.
In 2011, the LVS chairman and his wife Miriam Ochsorn donated $15 million to the pro-Gingrich political action committee "Winning Our Future," while Mitt Romney was the recipient (to no avail, of course) of Adelson's support in 2012, to the tune of $30 million. Romney has said he will not seek a 2016 presidential campaign spot this go round.
Graham, meanwhile, had shown little interest in the online gambling question until 2013, when Adelson and Ochsorn cut $15,600 in checks for his campaign for reelection to Congress. Graham is also known to have attended a fundraising party at Adelson's house.
Meanwhile, a report from townhall.com suggests Adelson recently met with a group of Republican lawmakers on Capitol Hill to renew his efforts to have online gambling banned in the US. The private briefing with members of the House Judiciary Committee, which includes Chaffetz, was described by sources as both a strategy meeting and an update.
RAWA on the Rise
At this week's confirmation hearing for Loretta Lynch, Graham quizzed the Attorney General candidate on her feelings toward online gambling, and in particular the DoJ's 2011 legal opinion on the Wire Act, which effectively opened the door for state-by-state regulation. Lynch neatly sidestepped the question.
Both Graham and Chaffetz have returned to the new session of Congress with more political capital than they held last year. Graham is now a member of the Republican majority and Chaffetz was recently made chairman of the Government Oversight and Reform Committee.
Graham is a foreign policy hawk who counts Senator John McCain as one of his closest allies. Announcing his intention to run, he cited the fight against Islamic extremism as his top priority.
He joins a list of more than 15 Republicans who are considering running for president, including a third Bush dynasty possibility in former Florida governor, Jeb Bush. Meanwhile, New Jersey Governor Chris Christie, under whose administration online gambling has been legalized in the Garden State, has also been linked with a push for the GOP candidacy.