RAWA Hits Senate Floor as GOP 2016 Presidential Hopeful Lindsey Graham Gets Lambasted by PPA
Posted on: June 25, 2015, 12:48h.
Last updated on: June 25, 2015, 01:00h.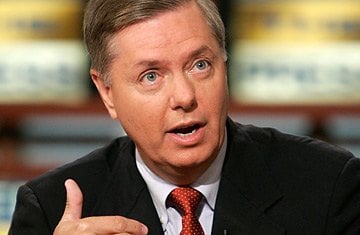 RAWA, the brainchild of Senator Lindsey Graham (R-SC) has now been introduced to the Senate.
The legislation, formally known as the Restoration of America's Wire Act, seeks to restore what opponents of online gambling believe to be the original and correct interpretation of the 1961 Federal Wire Act, before it was reinterpreted by the Department of Justice (DoJ) in 2011.
The Wire Act, in its original wording, specifically prohibited "betting or wagering" using "a wire communication facility for the transmission."
The DoJ's legal opinion of 2011 asserted this merely related to sports betting over the Internet, rather than poker or casino gaming, which paved the way for individual states to legalize and regulate online gambling within their borders in the last few years.
Graham's bill, if passed, would effectively ban all forms of online gambling at the federal level, apart from horse race betting and fantasy sports. No exemptions would be made for the three states (Nevada, New Jersey, and Delaware) that have already opted to regulate online gaming, or, indeed, for the dozen or so that have chosen to offer online lottery ticket sales.
Timing Is Suspect
It's long been expected that Graham, who sponsored the bill last year, would present RAWA to the Senate at some point in 2015, but, according to online poker lobby group the Poker Players Alliance, the timing is deeply suspect.
"As the eyes of the nation are focused on South Carolina following the recent tragic event, I think I speak for most Americans when I express profound disappointment in Senator Graham for choosing this time to advance a bill for the sole benefit of a billionaire political donor," said John Pappas, executive director of the PPA.
"The Congress made the decision to adjourn early so they could attend services on Friday in Senator Graham's home-state. Unfortunately, Senator Graham has not reset his priorities and picked a very unfortunate time to engage in the Internet gaming debate."
Pappas also accuses Graham of cronyism. The Senator recently announced his decision to run for president, and many commentators believe that RAWA is important for Graham as a means of securing the sponsorship, and campaign donations of LVS Chairman Sheldon Adelson, who is known for his virulent hatred of all things related to online gaming.
California Online Poker Hearings
"In 2014, following private meetings between billionaire casino mogul Sheldon Adelson and Senator Lindsey Graham and several Adelson-sponsored fundraising events, Senator Graham introduced similar legislation to ban states' from authorizing Internet gambling within their own borders," said the PPA in an official statement this week.
"Though Senator Graham has traditionally been a staunch states' rights advocate, this legislation would overturn whole-cloth the decisions of the states to authorize and license online gaming within their own borders.
"Sheldon Adelson's power over politicians, especially those running for president, is significant, but Congress must show it is stronger," warned Pappas.
While Graham was presenting his legislation to an empty Senate, Pappas was in Sacramento, addressing a hearing of California's General Assembly Committee on Governmental Organization on the feasibility legalizing online poker in the state.
"There is no public policy justification for the status quo," he told the committee. "Doing nothing is simply not an option. Now is the time for the legislature to regulate Internet poker."
Most Read