Poker Players Denied Cashouts on Lock Poker
Posted on: April 28, 2013, 05:46h.
Last updated on: April 27, 2013, 08:46h.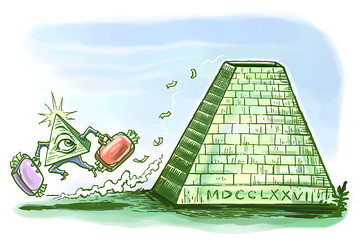 Hopefully you aren't trying to withdraw lock, stock or barrel from Lock Poker right now; if you are, most likely, you are not having much luck.  Lock Poker, the Revolution Gaming Network's flagship site, has reportedly been  refusing  to honor cashouts, even going so far as to put a prohibition on large-scale cashouts, period. Looks like maybe the flag on this ship should be lowered to half-mast.
Ongoing Cashout Issues
Yup, it smells like yet another online poker Ponzi scheme at work here. Two-to-four month cashout speeds for U.S. players, and even the ROW ("rest of the world") players are saying that Neteller and Skrill are taking a languid month to get them their dough. Not good. Not good at all. Especially after two years of all the dark, dirty secrets of Full Tilt and Poker Stars floating like flotsam and jetsam on the U.S. Department of Justice's dockets.
Chip Trades Cause Issues
Like most of these situations, by the time the severity of the problem begins to surface, it may be too late for many to salvage.  Apparently, players had been trading poker room chips on the Two Plus Two forum, and many, if not most, of those trades involved Lock Poker's chips.  The chips were being traded low anyway; about 50 cents on the dollar – due to the slow cashout times.  Seems that one online player, known as Thejuggernaut, tried to make a $10K Skrill cashout happen back in March, and it took an entire month just for him to get an email saying his cashout request was a no go. The excuse used was the cashout was an attempt to turn these chip trades into cash without actual play, and thus not legit, but Thejuggernaut went on to post a screenshot on the forum site showing a balance in the black for 2013 of $30,000. He was also able to document that those funds had been won with actual play, not chip purchase transfers, and following his forum posts, more like him came forward with similar stories.
Poker Rep Responds
Lock Poker's Two Plus Two forum rep, Imjustshane, came back by saying that Thejuggernaut had received more transfers than he showed, and also with claims that large player rings were manipulating Lock Poker chip trading prices. You know, the old "the best defense is a good offense" M.O.
Defenses notwithstanding, particularly with the bitter taste of Full Tilt and PokerStars still somewhat fresh in their mouths, players are probably not going to be satisfied with that explanation for not being able to access their money at even a nominal rate of speed. Perhaps they should rename the site Lockout Poker and be done with it.
Similar Guides On This Topic