Philippines Chasing Macau and Singapore as Newest Asian Gambling Destination
Posted on: February 26, 2013, 05:11h.
Last updated on: May 18, 2015, 07:48h.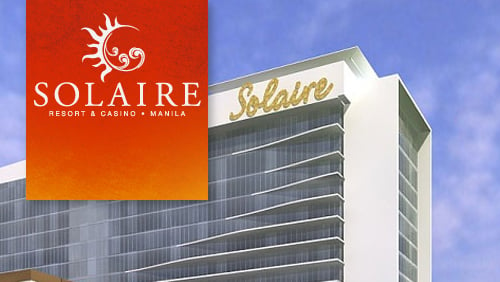 In just a few weeks, the first of four monstrous new casino resorts will be unveiled in Entertainment City, the Philippines, and suddenly Asia will have a new contender for the prolific gambling culture that permeates the region. A combination of some of the world's greatest wealth and new availability to the more modest middle classes has made Asia an extremely profitable region for the casino industry. Whether the Philippines gambling success will match that of Macau, (the #1 highest revenue generator for a gambling region anywhere), and Singapore (who with only two casinos is also making bank as a gambling Mecca) remains to be seen, but meanwhile there's plenty of hype about the first entrant into its casino panoply.
Planned Since 2007
Solaire Manila will be part of an enormous new area being referred to as Entertainment City, being built on a 21-acre parcel of reclamation land in Manila Bay.  Investments in the project have reached up to $15 billion, and all come from private ventures. The casino-resorts have been planned as part of an integrated project, and include the Belle Grande Manila Bay, Resorts World Bayshore, and Manila Bay Resorts.
Solaire Manila is designed as a five-star property, encompassing a 500-room hotel, 1,000-seat grand ballroom, and a nearly 300,000 sq. ft. gaming area with 1,200 slot machines and 300 gaming tables. This Philippines gambling resort will also house world-class convention facilities, live entertainment, and fine dining and shopping enclaves.
The destination resort is under a five-year management contract with American firm Global Gaming Asset Management, and the company has a 9 percent stake in the project. Las Vegas-based architect-designer Paul Steelman was brought in to create the property.
Bringing Vegas East
The new casino has, not surprisingly, recruited some top-drawer management talent from Las Vegas to create the kind of gaming experience guests will expect. For its lower-level jobs, Solaire Manila has more than 400 Filipino workers at the ready, and the property claims the new employees have experience in gaming and hotel operations all over the world. The property plans to build an additional 300 rooms within the next few years.
Of the remaining properties that are still being built, Belle Grande Manila Bay looks to be the next to open, later in 2013.  SM Investments Corp. spearheads that project.  Resorts World Bayshore is being built by Genting Hong Kong and AGI, while Manila Bay Resorts is a Universal Entertainment Corp. project, the company owned by Kazuo Okada, who quit as a board director and then was immediately ousted by Wynn Resorts this week after a lengthy battle with Steve Wynn over allegations of bribery to Filipino regulators.