Pennsylvania Sands Penalized for Underage Gambling
Posted on: June 18, 2014, 05:30h.
Last updated on: June 17, 2014, 05:54h.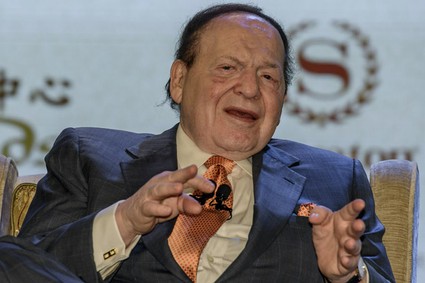 While Sheldon Adelson rails against the evils of online gambling, stoking fears that it will irreversibly corrupt America's youth, one of his casinos, the Sands Bethlehem in Pennsylvania, has been fined for allowing teenagers to gamble and consume alcohol on its premises for the fifth time in as many years.
The Pennsylvania Gaming Control slapped an $85,000 penalty on Sands Bethworks Gaming for six incidents of underage gambling between June 3rd 2013 and January 29th 2014 at the Sands Casino Bethlehem in Northampton County. Two 17-year-olds, a 19-year-old, and three 20-year-olds had been observed playing table games or slot machines at the casino during this period. It brings the total to 20 individual incidents of underage gambling over the past five years, which has cost Las Vegas Sand Corp. some $220,000 in fines.
Not Walking the Talk
While this means that the Sands Bethlehem has been penalized every year since it opened in 2009, it should be noted it's not the only casino in the state to fall foul of the authorities in Pennsylvania. Mount Airy Casino in Paradise Township has paid even higher fines in the past, and recently Valley Forge Casino Resort in Montgomery County was handed a $35,000 fine for two incidents that occurred last year, the second time Valley Forge has been penalized for underage gambling violations.
Ironically, Adelson's Coalition to Stop Internet Gambling (CSIG) is fond of using rhetoric to claim that online casinos prey on underage gamblers, ignoring the fact that regulation means greater protection and brings with it rigorous age-verification processes. CSIG recently created an video spot showing a teenage boy playing on his father's gambling account, as the Coalition steps up its campaign to push through a federal bill that would enforce a blanket ban on Internet gaming.
"I believe the recent $32.5 million settlement by Apple over in-app purchases made by kids on their parents' iPads/iPhones is just the tip of the iceberg if online gambling continues to grow," said Coalition National Co-Chair and former Senator Blanche Lincoln at the advertisement's launch.
"If kids can blow $2,600 in the app 'Tap Pet Hotel,' then think of what can happen when they get hold of their parent's password and start playing blackjack? It is a nightmare scenario for parents."
Hysteria and Hypocrisy
The incident at the Sands Bethlehem highlights the hypocrisy that many feel lies beneath the hysteria at the heart of the Coalition's argument. Adelson suffered a further blow to his cause recently when his closest ally in Washington, House Majority Leader Eric Cantor, was defeated in Virginia's Republican primary. Cantor will now stand down, which means the Coalition has lost a powerful backer, and that could hinder its efforts to promote the federal bill.
Meanwhile, Pennsylvania is looking at a bill of its own, backed by State Senator Edwin Erickson, that, if passed would, legalize and regulate online poker in the state. It comes hot on the heels of a recent study, commissioned by the state's Legislative Budget and Finance Committee and conducted by consultancy firm Econsult, which concluded online poker would be a huge financial boon to Pennsylvania, generating $129 million in revenue per year.
Similar Guides On This Topic