'Pawn Stars' Old Man Richard Harrison Dead at 77, Reality Series Made Las Vegas Staple Hip
Posted on: June 26, 2018, 09:20h.
Last updated on: June 26, 2018, 10:56h.
Pawn Stars patriarch Richard Harrison — the always-crusty curmudgeon affectionately known as "The Old Man" — has died at the age of 77 following a long battle with Parkinson's disease. The long-running Las Vegas-based reality series, now in its ninth year, has become History Channel's highest-rated program ever, and has turned the pawn shop at the center of the series into a legitimate tourist attraction of its own.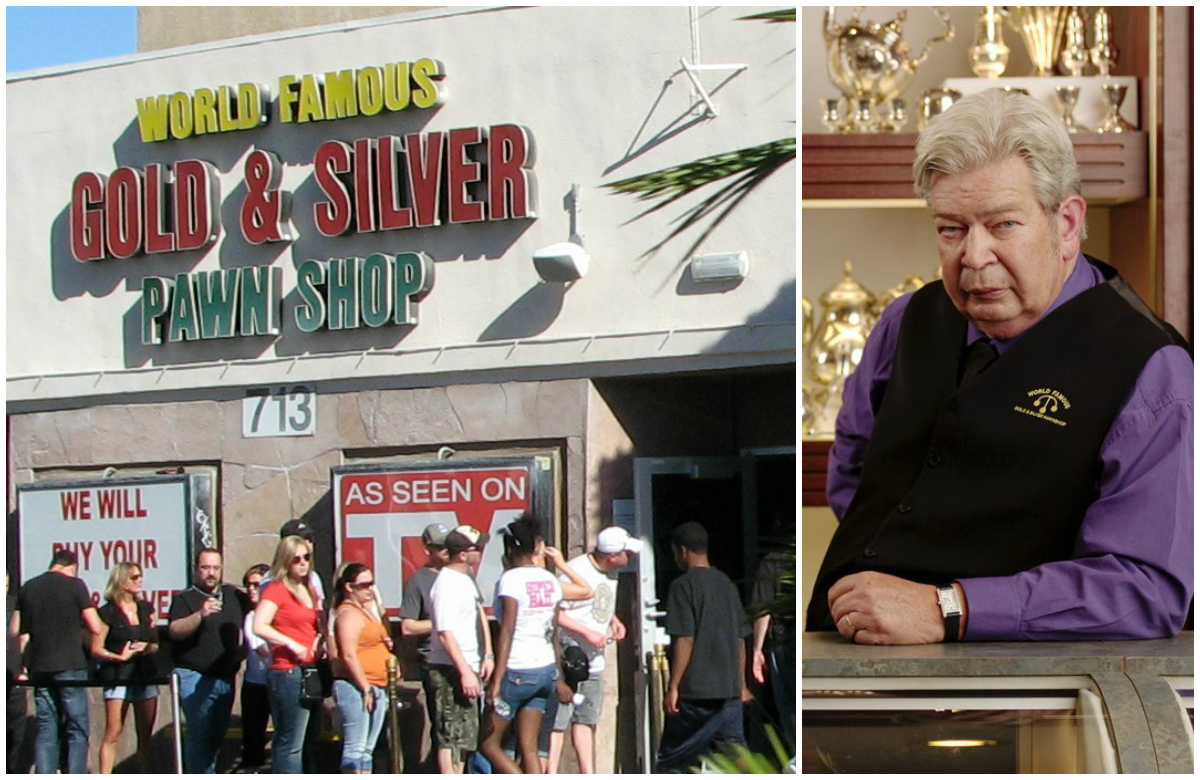 Plenty of Business
Pawn shops, of course, are nothing new in a town where people lose too much money every day and need to find a way to pay their bills. Pawn Stars has helped turned the industry as a whole into a more mainstream and acceptable place to see and be seen.
The show hit just as Vegas was knee-deep in a crippling recession. But even with that resolved, the Gold and Silver Pawn Shop where it's filmed has continued to be a lure.
Along with crazy rides that run high above concrete sidewalks below, wild animals, and an endless stream of dining and entertainment options, the hit reality series offers an "everyman" option to regular Joes and Josies who want to meet a TV star (or four) up close and personal, not to mention find out from an expert what their great aunt's memoribilia is worth.
The show's experts — regularly called by Rick to come down to the shop and assess the value of customers' items — have become stars in their own right, and shown fans a side of Vegas history they may not have known existed.
Lines can be seen wrapping around the block at the 24/7 location at 713 S. Las Vegas Boulevard on the section of the Strip that lies in a fairly nondescript area between the high-end casinos and the more accessible aura of Fremont Street and downtown.
Harrison's pawn shop, which opened in its current location in 1989, saw traffic increase tenfold — from 70 to 700 — daily during the TV series' first year. The store says between 3,000 and 5,000 people now enter its doors each day.
Pawn Future
Earlier this year, "Pawn Stars" aired its 500th episode, which means it's been on the air longer now than popular scripted shows such as Family Guy, NCIS, and Grey's Anatomy.
"People continue to watch the show, they binge watch it, and we're just continuing," Rick Harrison said in January.
With interest still high, Harrison is pressing forward with expanding the business. In addition to an adjacent BBQ joint, the new senior member of the family has reached a licensing agreement with Elvis Presley's estate to manufacture collectible coins featuring the King's likeness.
Remembering the Old Man
The World Famous Gold & Silver Pawn Shop owner had little interest in becoming a TV star, but after television executive producer Brent Montgomery taped a pilot, well, the rest is history. Ironically, now 53-year-old son Rick Harrison had been trying himself for years to pitch the concept, without success.
Amid declining health, Harrison last appeared on the television show two years ago. Rick told the Las Vegas Review-Journal, "We knew it was coming. It was such a long battle, a slow progression. It just ravaged him."
Before opening his pawn shop, The Old Man served in the US Navy for 20 years, where he attained the rank of petty officer first class. After a stint in real estate that cost him nearly all of his $1 million in savings, he opened the original 300-square-foot pawn shop at a different Las Vegas Boulevard location.
Similar Guides On This Topic