Palms Marquee Signage Comes Down in $485 Million Revamp
Posted on: February 14, 2018, 08:30h.
Last updated on: February 14, 2018, 08:13h.
The familiar Palms marquee sign on Flamingo Road off the Las Vegas Strip is no more. On Tuesday, the 14-foot letters were removed by a 120-foot crane, as part of ongoing $450 million renovations to the Palms Casino Resort by new owner Red Rock Resorts, the Station Casinos parent.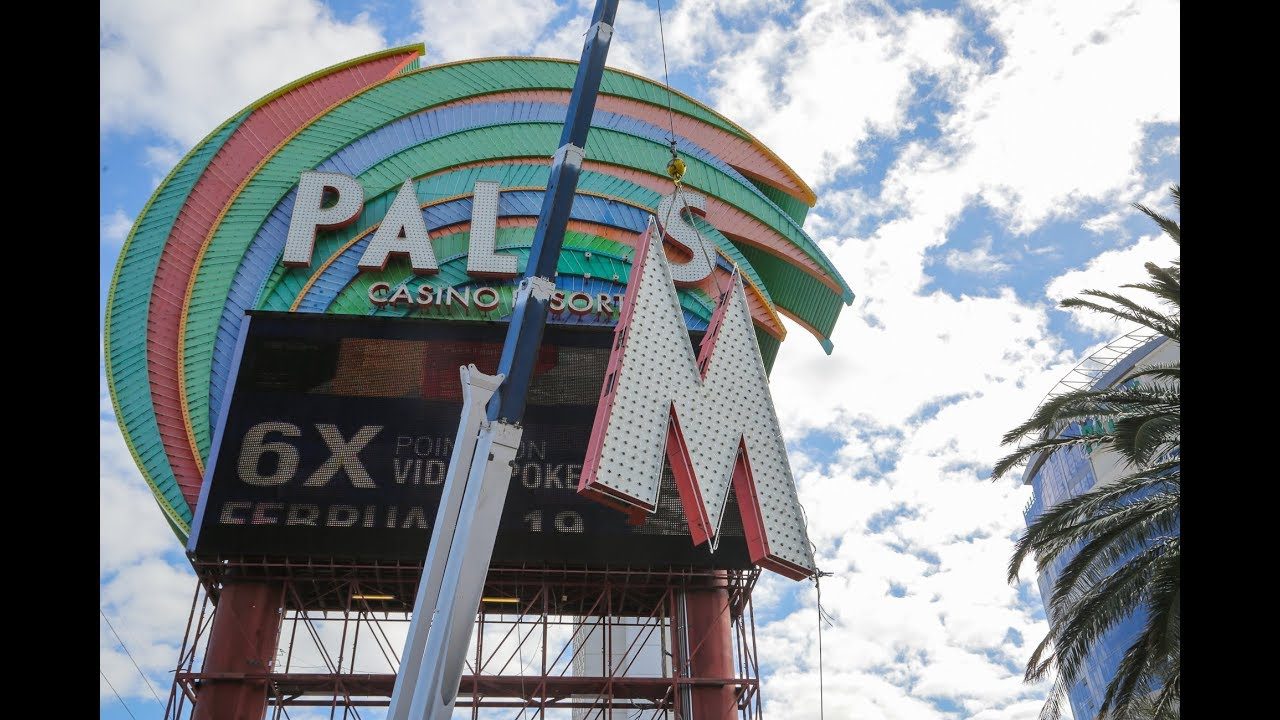 The old-school "message board," style sign, which employed manually changeable letters to advertise the resort's events, will be replaced by fully digital version later in the year.
The new one will be fully digital – a more contemporary style to go with the new design of the hotel," John Gray, general manager at the Palms told KTNV Action News. "It'll just be big and bright with lots of great messaging on there."
Landscape in Flux
There can be few cities in the world with such shifting landscapes as that of Las Vegas. In the last couple of years, iconic landmarks that have been demolished in the name of progress include the historic Las Vegas Club and the "Vegas Vickie" neon cowgirl on Fremont Street, as well as the famous Rat Pack-era Riviera Casino on the Strip.
Red Rock, which bought the Palms in 2016 for $312.5 million, wants to restore the casino's formerly hip image with a host of new nightlife venues and restaurants. The legendary Ghostbar will be replaced by the Apex Social Club, while the Camden Cocktail Lounge will occupy the lounge space on the casino floor.
The Pearl Concert Theater is also getting a new lick of paint, while new restaurants, A.Y.C.E. Buffet and the Lucky Penny Café, have already opened.
Down with the Locals
Red Rock believes the Palms is an attractive proposition because it attracts a strong mix of locals and tourists through its location just off the Strip.
At the time of the acquisition, Red Rock's executive vice president, chief financial officer and treasurer, Marc Falcone, praised the Palms' "appeal to both Las Vegas residents and tourists alike."
He noted it was a "hybrid gaming property that is uniquely positioned to benefit from the strong economic trends in Southern Nevada and record visitation levels in Las Vegas."
Likewise, Ryan Labbe of Clinique Hospitality, the brains behind the Palms new nightlife offerings, said they were aiming for a bigger local following than Strip venues.
"If locals aren't talking about it, why would somebody coming in from out of town want to experience it?" Labbe asked Las Vegas Weekly last month. "Locals always have been and always will be a vital part of our business at every venue."