Paddy Power Betfair Marriage to Unite Two Wealthy Corporate Kingdoms
Posted on: September 8, 2015, 11:59h.
Last updated on: September 8, 2015, 12:04h.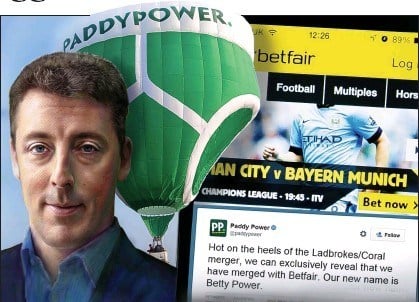 Paddy Power Betfair, the new corporate amalgam of two major online gaming operators, will create a gambling empire that will be the envy of the online casino universe.
Paddy Power and Betfair have agreed terms on a £5 billion ($7.6 billion) merger that will create an online gambling superpower, one of the biggest in the world.
Paddy Power Betfair, as it will now be known, will have its headquarters in Dublin and employ over 7,000 staff members worldwide, with £1.2 billion ($1.84 billion) in projected sales and an estimated £50 million ($76.8 million) in cost savings by the third year of the merger. The firms have warned, however, that there will be job losses.
Under the terms of the deal, Paddy Power, which itself was formed by the merger of three prominent Irish bookmakers, will acquire Betfair. Shareholders in the latter company will receive 48 percent of shares in the combined company, while Paddy Power shareholders will hold 52 percent.
Eligible for FTSE 100
Paddy Power Betfair will have a primary listing on the London Stock Exchange and a second in Dublin, and will also be eligible for entry on the FTSE 100 Index.
Betfair Chairman Gerald Corbett said that the deal made "huge strategic sense by bringing together two industry-leading and successful businesses and providing enlarged scale, capability and distinctive, complementary brands."
"The merger of Paddy Power and Betfair will create a company of world-class capability and people who will deliver substantial up-front synergies and a platform for very exciting business expansion." added Gary McGann, the Paddy Power chairman.
Industry Shake-up
While Paddy Power has 336 high street betting shops in the UK and 252 in Ireland, 80 percent of the combined firms' business will be online. The new group will reach customers from over 100 countries, and further international expansion planned across continental Europe, the US, and Australia, the companies said.
The move represents the latest shake-up in the gambling industry, as companies look to consolidate their interests and create scale in the face of rising taxes in Europe and stricter licensing rules in regulated markets.
Bwin.party last week agreed to a reverse $1.6 billion reverse takeover deal with GVC, while Ladbrokes and Gala Coral have also announced their intentions to merge. However, Paddy Power and Betfair, as two of the fastest-growing gambling operators of the last few years, represent the most attractive deal so far, analysts generally concur.
Bonus Brouhaha
Paddy Power Betfair will be headed up by the current Betfair CEO Breon Corcoran, who was previously COO of Paddy Power. Corcoran has been credited with driving Betfair's revenue up to record highs since he took over the reins.
Intake was up 21 percent last year to £476.5 million ($757 million) for the London-listed company, which said that an increase in marketing spend had helped elicit a 52 percent bump in active customers to a record 1.7 million.
Despite that uptake, some have balked at the recent decision to award Corcoran a £10 million ($15.3 million) bonus on top of his salary for his performance for meeting his targets during his first three years in office.
Similar Guides On This Topic
Latest Casino Stocks:
Retrieving stocks data...
Retrieving stocks data...
Retrieving stocks data...
Retrieving stocks data...
Retrieving stocks data...