Oneida Nation Sues New York State to Block Upstate Casino 
Posted on: January 20, 2016, 04:58h.
Last updated on: January 20, 2016, 04:58h.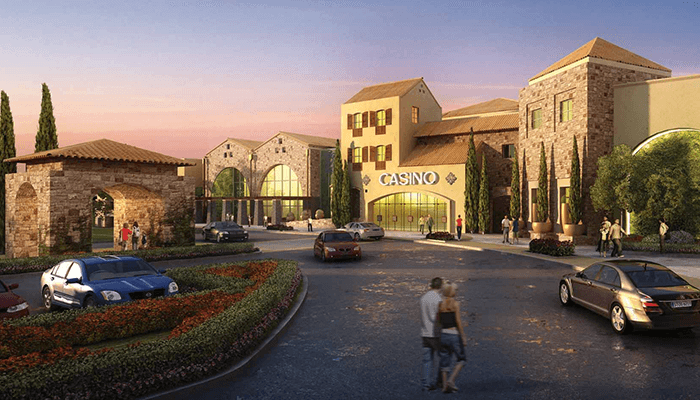 The Oneida Nation has launched legal action to block the building of the newly licensed Lago Resort & Casino in Upstate New York.
Lago was one of three licenses granted by the state to casino operators in December 2015, following a 2013 public vote in which residents opted to expand casino gambling into certain prescribed areas.
A fourth license, for applicant Tioga Downs, is currently under review by the New York State Gaming Commission.
All three casino resorts are scheduled to open in 2017. The biggest, Montreign, is a $1.3 billion project under construction outside Monticello, in the Catskills. The Rivers Casino is a $300 million complex on a 60-acre waterfront site in Schenectady, near Albany. But it is Lago, in the Finger Lakes town of Tyre, between Rochester and Syracuse, is attracting the most flak.  
No Love for Lago
In fact, Oneida's is the seventh lawsuit filed against Lago since the awarding of the casino project's license, joining a litany of litigation from local residents and businesses also unhappy with the new gaming property's arrival.
Oneida operates the Turning Stone Casino, on tribal land around 75 miles from the Lago site, as well as the Fingerlake racino, just 30 miles away. The tribal operator is seeking complete nullification of the Lago license, citing negligence on behalf of the regulator
The Indian tribe filed against the gaming commission last fall in an effort to obtain documents related to the awarding of the Lago license, and after reviewing the information, now believes the commission has acted illegally.      
The defendants state that regulators "exceeded the gaming commission's lawful authority and jurisdiction," and that the licensing of Lago was "made in violation of lawful procedure, was affected by an error of law, lacked a rational basis, and was arbitrary, capricious, and an abuse of discretion."
Casinos exist, contests the lawsuit, to "boost economic development, create good jobs, provide added revenue to the state, attract non-New York residents to Upstate New York, and bring downstate New Yorkers to upstate."
And yet, argues the Oneidas, Lago made no secret of the fact that it intended to "cannibalize" other gambling operators in the area in a spirit the tribe feels is contrary to the aims of New York's casino expansion act.
Lago Strikes Back
In this regard, claims the lawsuit, the gaming commission has been negligent and arbitrary in its licensing process.  
"This lawsuit is simple: we are asking the court to force the Gaming Commission to enforce and respect the law that it is responsible for upholding," the nation said in a statement on Tuesday.
Lago spokesman Steven Greenberg, who has said that the Lago project will create 1,800 construction jobs, 1,230 permanent jobs, and 630 indirect jobs in the area, hit back against the Oneidas this week.
"With this latest action, the Oneidas continue their all-out assault against competition," he said. "This is the seventh lawsuit brought against this project, most of which have been largely or completely funded by the Oneidas to preserve their monopoly and ignore New York's commitment to expand economic opportunity in the Finger Lakes region."