Okada and Wynn Use Former FBI and Homeland Security Mercenaries to Do Battle
Posted on: April 24, 2013, 05:30h.
Last updated on: May 2, 2013, 10:40h.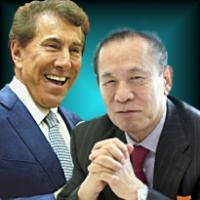 Maybe money can't buy happiness, but it can buy a damned fancy consultant to plead your case; witness the never-ending feud between Las Vegas billionaire Steve Wynn and Japanese billionaire Kazuo Okada, which has now been going on for almost as long as the War of the Roses, and is about as acrimonious.
Homeland Security vs. FBI
On one side of the battlefield stands Kazuo Okada with his henchman, Michael Chertoff, the former Homeland Security Chief, who no doubt is making a whole lot more money being Okada's stable boy.  Chertoff has prepared a 45-page report for Okada, in which – oh my what a surprise! – he refers to the allegations of misconduct that Steve Wynn and his warriors have flung at Okada as being based on a "deeply flawed" investigation, that – no doubt exactly like Okada's report – used cherry-picked information to build a purportedly biased case with the aim of ousting the Japanese mogul from his co-throne with the Knights of the Round Table over at Wynn Resorts Ltd.
On the other side of the war zone stands former FBI Director Louis J. Freeh, defending the honor of His Royal Highness, Steve Wynn, Rex. We're chuckling imagining how these two lackeys gasped when they heard the money they were being offered to fight their respective lords' battles for them in the business and criminal courts of the world.
Battling It Out
From the Okada camp: "The Freeh report's factual findings and inferences lack objectivity and lack factual support," Chertoff wrote in his defense report for his Samurai boss. "Freeh's law firm viewed itself as an advocate first, and an impartial investigator second," he added. Which, if we may say so, is exactly what you are as well, Mr. Homeland Security dude.
Okada added that Chertoff's report "confirms what I have maintained since the Freeh report was issued…It's obvious that the biased report was part of Steve Wynn's campaign to eliminate me as a rival to his power within Wynn Resorts."
Okada recently stepped down from Wynn's Board of Directors only a day before the voting membership knocked him out anyway, in a completely redundant act, by about a 98% margin.
So, we'd say, Wynn's tactics are working.