One Ohio Woman Sees Holocaust Reminder in MGM Security Uniform Six-Pointed Star
Posted on: July 24, 2019, 07:55h.
Last updated on: July 24, 2019, 08:36h.
MGM Resorts International announced Wednesday afternoon that it would change its security personnel uniform after a Jewish Ohio woman complained that the insignia used resembled a Nazi symbol used during the Holocaust to identify Jews.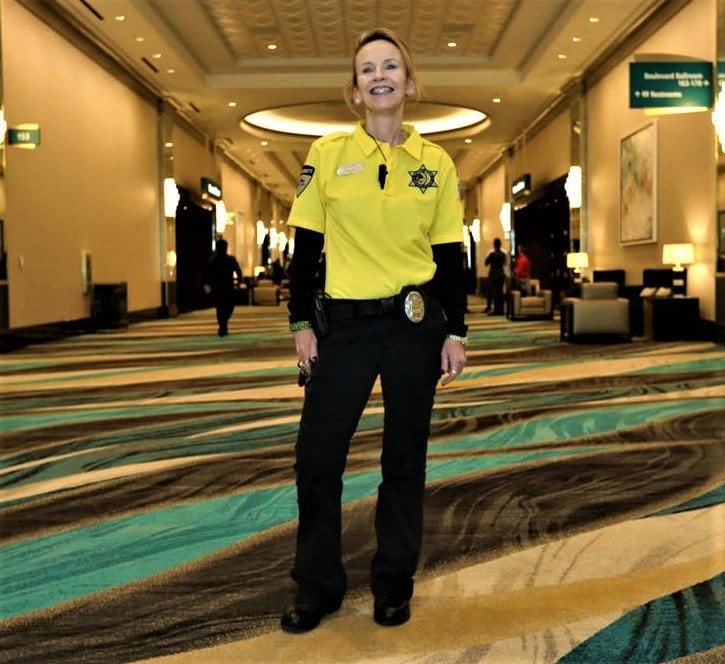 According to the Cleveland Jewish News (CJN), June Scharf attended a comedy show earlier this month at MGM Northfield Park, a racino near Cleveland. While there, she noticed guards wearing yellow shirts with six-pointed gold stars and an MGM logo within it. The traditional symbol of Judaism is the Star of David, which was used by the Nazis to identify Jewish individuals during World War II.
Scharf told the Cleveland publication that the image triggered thoughts of the Holocaust.
"I have family that died in the Holocaust," Scharf said. "So, I feel very close to that experience. And I take it seriously and seeing that imagery takes me right back to that past which is painful. A star on a yellow shirt screams the Jude stars that they made Germans wear, German Jews. My grandfather was German and he left Germany, but other members of his family perished."
The six-pointed Star of David is an important symbol of the Jewish tradition, dating back centuries. It became more prevalent in Jewish sectors of European countries during the 19th century. While the yellow star was used by the Nazis to identify German Jews, the star itself remains an important piece of Jewish culture, as it is prominently displayed on the Israeli flag and worn by Jews worldwide as a symbol of their faith.
MGM 'Regrets'
Debra DeShong, MGM's vice president for global corporate communications and industry affairs, told Casino.org Wednesday evening that the gaming and resort company is working on a change right now.
We appreciate this being brought to our attention and will begin the process of changing the badges on the uniforms in question," DeShong said. "We regret anyone was offended – it was certainly not our intention. We are committed to ensuring that everyone feels welcome on our properties. Diversity and inclusion is at the core of our company's values."
Besides MGM Northfield Park, the uniform is used at the company's regional facilities and Las Vegas properties, including the MGM Grand. No timetable has been established from switching out the uniforms, DeShong said.
MGM became aware of the issue two days ago when a CJN reporter sought a comment from the company.
Not only did Scharf's reaction lead MGM to promise it will change its security badge, it also prompted a member of the Cleveland Anti-Defamation League (ADL) to reach out to MGM Northfield Park officials.
Six-Star Badges in Law Enforcement
An online search found security personnel at MGM venues have worn six-pointed badges dating back to at least the mid-1990s.
While security guards at MGM and other resorts and casinos are not deputized law enforcement officers who have the power to detain individuals off of the resort's grounds, many companies have their security officers wear badges so they can be quickly identified in case a customer or patron is in need of help during an emergency.
While Las Vegas Metropolitan Police Department officers wear a seven-star badge, there are numerous law enforcement agencies across the country that give their officers a six-star badge. Those agencies include the Wayne County Sheriff's Office in Michigan, which provides law enforcement services in the state's most populous county, and the Los Angeles County Sheriff's Department, which is the nation's largest sheriff's department. Los Angeles is also home to the world's second-largest Jewish population outside of Israel, according to the Jewish Virtual Library.
#ThrowbackThursday #LASD #1972 started the "Officer Friendly" program to visit children at schools in the 70s. From school visiting to today's Youth Activity League @sheriffs_youth, LASD vows to continue helping inspire children to achieve their dreams.https://t.co/YdprHAa62T pic.twitter.com/NtnP7OmdPF

— LA County Sheriff's (@LASDHQ) June 27, 2019