Oh Behave! Nevada Gaming Regulators Tell Vegas Casinos to Keep It Legal
Posted on: March 27, 2013, 04:33h.
Last updated on: March 27, 2013, 04:33h.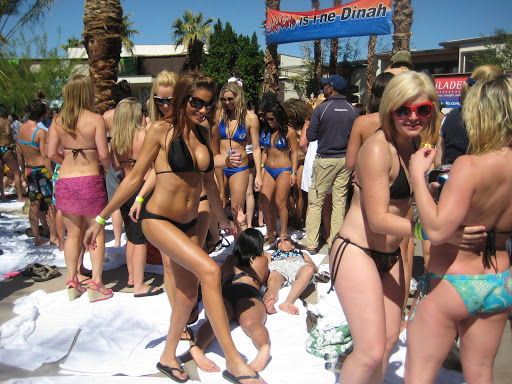 Summer's around the corner, and you know what that means: the notorious Las Vegas casinos' summer pool parties are about to get into full swing. That means bikini-clad maidens everywhere, outrageous amounts of incredibly overpriced booze flowing like a river, and, oh yeah, possibly some illicit activities going on as well.
In an effort to crack down on that last bit, Gaming Control Board Chairman A.G. Burnett and Clark County Sheriff Doug Gillespie have issued a memorandum to the Strip's resort properties, telling them in no uncertain terms that what happens in Vegas is going to be their fault if it happens on their property.  The lawmakers told the Vegas resorts that they are legally liable for anything criminal that happens in their venues, and could face fines or disciplinary action for same, even if a third-party operator manages one of their nightclubs, ultra lounges or day clubs.
Recent Incidents Show Poor Oversight
A recent incident which garnered national news coverage, where a multicar wreck that involved a shooting and left three people dead, was a major motivation for the notice.  The shootout and crash took place right on the Strip, around Flamingo, which is the corner that houses major Strip properties like Caesars, the Bellagio and the Aria at CityCenter. Turns out, the gruesome scenario began at the swank Aria's valet area, where the drivers of a Range Rover and a Maserati got into some kind of altercation; before the early morning drama was through, a rapper known as Kenny Clutch (the Maserati driver), a 62-year-old taxi driver and his passenger were all dead.  The driver of the Range Rover, a self-described pimp who fired the shots at the Maserati, sped away, but was later apprehended in Los Angeles where he was being held for extradition back to Vegas. Being Vegas, much of the various parts of the incident were caught on high-tech surveillance cameras, both at the Aria and on the Strip, where traffic cameras are de rigueur.
"Recent investigations have not only shown a lack of enforcement effort to curtail criminal activity on the part of patrons, but that venue staff have played an active role in condoning and/or facilitating the criminal activity," wrote Burnett and Gillespie in their scathing memorandum.
Burnett went on to say in a recent interview about the Strip incident and casinos' liability for the same, that "this shouldn't be a surprise to our licensees. This is to serve notice to everyone involved that we are investigating problems. The sheriff is very concerned, and there is a continuing desire for the departments to work together on these issues."
Stay Out of Trouble Or Else
The shooting incident was far from the only incident to which law enforcement was pointing a finger, however. Both the control board and police noted issues with drug distribution and abuse, sexual assaults, thefts, violence, prostitution, nudity and even the presence of underage attendees at hotel-casino clubs and pool areas. In Vegas? Really? Shocking.
"This type of activity on the part of those who are supposed to be responsible for the protection of both guests and the property will not be tolerated," the jointly issued memo went on to reiterate.  The memo also reminded that both the Gaming Control Board and Metro would continue to "actively conduct ongoing covert investigations" at any suspected properties.
So go ahead, make their day.