No Pot Near Casinos: Nevada Gov. Steve Sisolak Pushes New Bill to Keep Marijauna Away from Gaming
Posted on: May 23, 2019, 09:40h.
Last updated on: May 23, 2019, 09:46h.
Nevada Gov. Steve Sisolak (D) wants the state to regulate its ever-growing legal marijuana industry, calling for possible cannabis lounges to be located well away from casinos, churches, synagogues, and mosques, as well as parks and schools.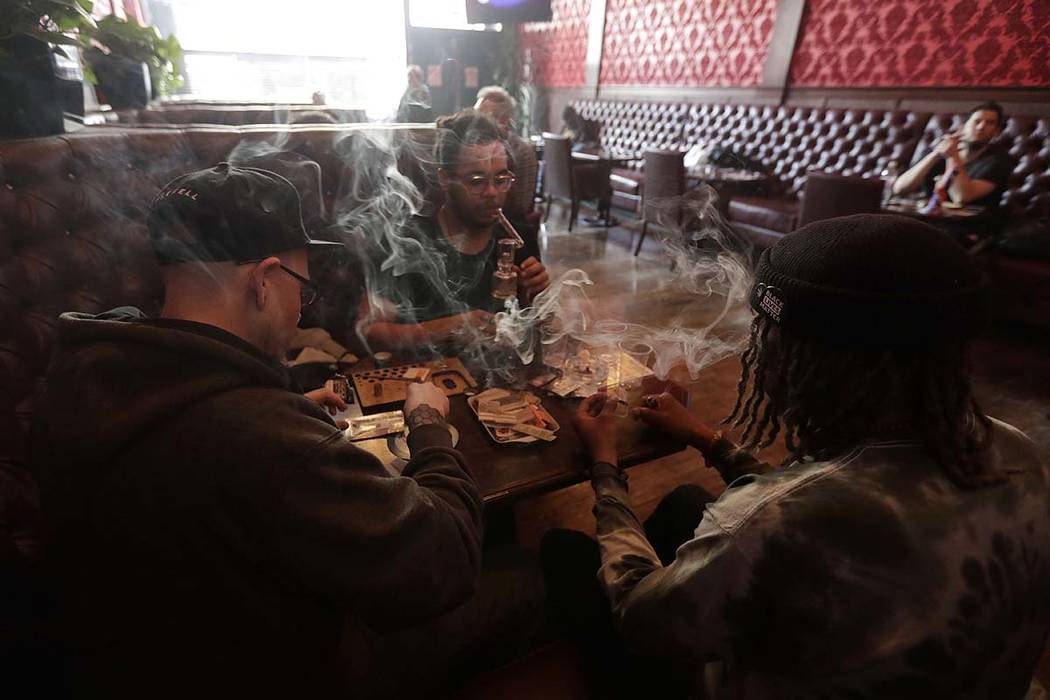 His new bill — AB533 —  pushes to have any future pot lounges located at least 300 feet away from houses of worship, parks, public pools, and recreational facilities. The bill also requires that cannabis be located at least 1,000 feet away from a school, and pushes that figure even further — to 1,500 feet away — from casinos.
Earlier this month, the Las Vegas City Council voted 4-1 in favor of opening marijuana consumption lounges within city limits. The city of Las Vegas does not include The Strip, which is located in an unincorporated part of Clark County — although tourists report that the wafting odor of pot is everywhere these days, even though it's technically only supposed to be enjoyed on private property.
Playing It Safe
Some industry leaders are pushing to keep weed lounges away from casinos, highlighting the potentially thorny legal issues that could arise if cannabis and gaming properties mix.
Virginia Valentine, president of the Nevada Resort Association (NRA), said some of the group's members also hold gaming licenses in states where marijuana remains illegal and that violating gaming control board policies or federal law could lead to hefty fines or even loss of licenses.
The Nevada Gaming Control Act requires that all casino license holders comply with all federal laws, and marijuana remains illegal at the federal level.
In 2017, the Silver State became at that time the eighth state to legalize recreational cannabis consumption, permitting sales to adults 21 and older.
The original law mandates legal weed purchased in Nevada must be consumed in a private residence.
An amendment to AB533 offered by the NRA goes further by looking to expand the 1,500 feet away casinos clause to all cannabis dispensaries, not just consumption lounges.
For the first year the lounges are operational, the only businesses that can be licensed are the 12 Las Vegas dispensaries and the 10 businesses that hold dispensary permits, but have yet to open. Anyone else will have to wait at least a year.
Big Business Vs. Upstart Industry
Tourism, including gaming, is a major driver of Nevada's economy. The industry employs 450,000 in the state and accounts for more than 37 percent of the revenue that goes into the general fund, according to Valentine.
That dwarfs the contributions of the newer state cannabis industry, but the business of weed is still in its nascent stages and is seen as an avenue for luring more tourists from the coveted millennial demographic to the state.
In August 2018 — around the time of the first anniversary of recreational cannabis being legalized in the Silver State — the Nevada Department of Taxation said weed generated nearly $70 million in tax revenue, or 140 percent more than it expected. That's a good start, but it pales in comparison to the more than $711 million Nevada gaming operators contributed to the state's general fund in fiscal 2018.
Nevada currently has a 10 percent excise tax on marijuana sales, which is directed to the state's rainy day fund. But Sisolak and other Democratic leaders recently unveiled a plan to direct proceeds from that tax to state education funding. Currently, only the 15 percent wholesale tax Nevada levies on cannabis is aimed at education.