New York Governor Cuomo, Lawmakers Reach Casino Accord
Posted on: June 20, 2013, 05:35h.
Last updated on: June 20, 2013, 02:35h.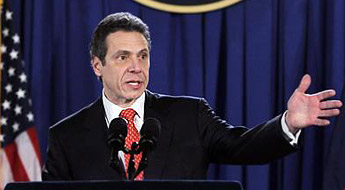 New York Governor Andrew Cuomo appears to have reached an agreement with state legislators that will bring his plans of casino expansion for the Empire State one step closer. The deal will allow for four Las Vegas-style casino resorts to be built in upstate New York, but will require voter approval before they can be built.
Two Voting Sessions Required
The long process is due to laws related to gambling proposals in New York. Under state law, any gambling measure must pass not once, but twice, under two consecutive legislative sessions. That's why the casino plan had to be approved again despite having won a vote last year. Several reports state that a deal has been reached, even if the finer points are still being negotiated before the current legislative session ends this week. After the two rounds of legislative approval, gambling measures also require a public referendum to go into law.
The bill that was introduced earlier this week will allow for two distinct rounds of casino licensing in the state. First, four upstate casinos would be approved. Then, seven years later, three more licenses would be provided for casinos in locations that have yet to be determined.
The casino bill is part of a major initiative by Governor Cuomo that's designed to help the upstate economy, which has struggled over the last decade. Each of the new casinos would have to share revenues with surrounding counties, and the hope is that they will draw tourism from New York City as well as surrounding states.
Balancing Act
It's been a tricky situation to navigate, as there are many players in the state with reasons to oppose such an expansion. But the governor has worked hard to meet the concerns of many such groups. Notably, Governor Cuomo reached agreements with several Native American tribal groups that already run casinos, including the Oneidas, the Mohawks and the Senecas. Each group received an exclusivity zone around their casinos, ensuring that new casinos would be built in other parts of the state.
Reaction to the expansion has been mixed from the gaming industry. Foxwoods has already said they would build a new resort in Liberty (a town about 100 miles northwest of New York City), while billionaire casino operator Sheldon Adelson has said that his company (Las Vegas Sands) would have no interest in building a casino in the state outside of a New York City location.
Similar Guides On This Topic