New Jersey Legislators Reintroduce International Online Gambling Bill
Posted on: February 2, 2014, 05:30h.
Last updated on: January 31, 2014, 02:57h.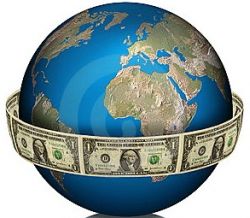 The online gambling market in New Jersey may not be pulling in the enormous revenues that Governor Chris Christie predicted, but overall, the launch has been seen as a success for the state's casinos. But even as the New Jersey Internet betting market is in its infancy, some legislators are thinking ahead to how the state could capitalize on legal online gambling around the world.
Going Global
A new proposal from New Jersey state senators Ray Lesniak and Jim Whelan would allow Atlantic City casinos and their partners who have earned online gambling licenses in the state to offer their games in other regulated jurisdictions as well. That would take New Jersey's online offerings out of an admittedly large cottage industry and onto a much broader stage, where the potential earnings for casinos and the state government are nearly limitless.
"This opens up the worldwide market to us, the $30 billion Big Kahuna," said Senator Lesniak.
This bill is not the first time New Jersey's legislators have taken a look at where else the state's licensees might offer their online gaming sites. The concept was first floated by Lesniak last year, before the first sites even went live. Under that version of the legislation, online gambling companies from around the world would have been welcomed to New Jersey, potentially turning the state into an international gambling hub. That legislation was later changed to require companies to operate specifically out of Atlantic City, and to remove a requirement that online gambling firms help fund the state's horseracing industry.
Stepping Outside State Lines
The new version of the legislation simplifies those proposals. Under the current plan, New Jersey's licensed casinos and their online gambling partners would be allowed to offer their services in other regulated jurisdictions. Rather than bringing the world of gambling to the state, it would allow New Jersey's online casino industry to reach out to the massive worldwide market instead.
The bill would also require payment processors to be licensed in the same way as New Jersey's casinos and their online gambling partners. This would hopefully solve some of the current problems players are having with financial institutions preventing online gambling payments from being processed for the state's regulated sites. Many major banks have been wary of approving online gambling transactions for a variety of reasons, including confusion over how state and federal laws interact on this issue. It is hoped that licensing payment processors could help ease these concerns.
Lesniak believes that such legislation would allow New Jersey to reap the maximum benefit from its association with online gambling.
"[The bill] would put New Jersey at the hub of an international gaming industry that is expected to experience rapid growth in the years ahead," Lesniak said when he first introduced the bill in November. "The plan would help attract international gaming companies to New Jersey, producing jobs, state revenue and economic expansion.
"We are well positioned to take advantage of a dynamic opportunity to be at the hub of a new business sector with the potential for economic growth and job creation," the senator added.
The first figures released for online gaming in New Jersey have shown that casinos made $8.4 million between the November 21 launch and the end of 2013.
Similar Guides On This Topic