New Jersey DGE Grants Seal of Approval to Authorized iGaming Sites, But Controversy Remains
Posted on: September 30, 2015, 11:11h.
Last updated on: September 30, 2015, 11:22h.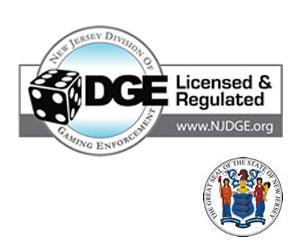 The New Jersey DGE, the state's gaming enforcement division, has released a seal of approval declaring that a given gaming website is an accredited and sanctioned online network for players.
Accompanied by a die, the emblem reads, "DGE New Jersey Division of Gaming Enforcement, Licensed & Regulated, www.NJDGE.org."
"All sites authorized to offer Internet gaming in the State of New Jersey will display this logo," the DGE stated.
Line-toers in the industry had requested such a seal, citing frustration among residents in the Garden State that struggle to determine whether a site is permitted by the DGE. And while the blaze could help alleviate those concerns, many believe the public isn't familiar enough with the DGE for the issue to be completely remedied.
Too Many Signs
The DGE hopes its new badge will alleviate concerns residents might have when trying to verify a site's legality. But with most regulated gambling websites already including a profusion of logos on their pages, the new stamp could get lost in the shuffle, so to speak.
From the many deposit and withdrawal options, to "21 and older" age designation icons, to the National Council of Problem Gaming (NCPG) insignia, operators feature an abundance of logos on their homepages.
Several sites also list badges confirming "safe and fair play" operations, attesting that random number generation and probable outcomes are being produced.
There are currently 17 authorized online gambling sites for New Jerseyans managed by Borgata, Caesars Interactive Entertainment, Golden Nugget, Resorts, and Tropicana. If users aren't on one of those gaming sites, they aren't playing on a legalized network.
Accountability Paramount
Aside from the DGE wanting to ease player concerns on network validity, the department has also made a concerted effort to combat problem gambling. That was among New Jersey Governor Chris Christie's paramount concerns when the state first legalized online casinos in 2013.
In addition to publishing the DGE Licensed & Regulated stamp, operators must display responsible gaming information for patrons and properly train employees who have direct contact with consumers to identify addicted bettors.
"Among the states with legalized Internet gaming, New Jersey's regulations are the most clearly directed toward aiding consumers in making informed choices about their gambling behavior and promoting responsible gambling," the Center for Gambling Studies at Rutgers University said in a statement, showing that the collection of moves may help get third-party endoresments of sorts for Garden State "sealed and official" sites.
In August, DGE Director David Rebuck updated iGaming employee requirements to mandate those who directly interact with consumers must undergo adequate preparation to "recognize the nature and symptoms of problem gambling behavior and how to assist players in obtaining information regarding help for a gambling problem and self-exclusion."
The general theme in both the DGE seal of approval and expanded employee training is player protection. New Jersey lawmakers seem to be under the impression that online gamblers are more likely to face problematic behaviors than those at traditional land-based casinos.
"A number of studies have reported higher rates of problem and disordered gambling among Internet players," the Center for Gambling Studies stated, before admitting it is "difficult if not impossible" to decisively say which medium is preferred among those susceptible to gambling dependency.