New Hampshire Voters Choose Bernie Sanders and Donald Trump in First-in-the-Nation Primary
Posted on: February 10, 2016, 02:37h.
Last updated on: February 10, 2016, 03:01h.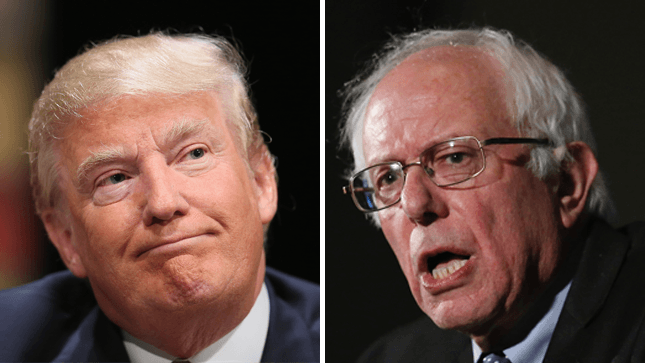 New Hampshire voters spoke loud and clear on Tuesday with America's first presidential primary of the 2016 cycle. What they said is that they aren't looking for a traditional candidate to be their next president, regardless of party.
Vermont Senator Bernie Sanders, a self-described democratic socialist, and Republican billionaire businessman Donald Trump, each won their respective primaries with decisive wins.
Sanders received 60 percent of the Democratic vote to Hillary Clinton's 38.3 percent, while Trump pounced his challengers with 35.2 percent to Ohio Governor John Kasich's 15.8, Texas Senator Ted Cruz's 11.7, and former Florida Governor Jeb Bush's 11.1 percent.
It was a dominating evening for Sanders and Trump, and both needed the landslide victories to retain their momentum as they now head to South Carolina and Nevada.
"We are going to make America great again!" Trump declared uttering his campaign motto.
"Tonight, with what appears to be a record-breaking voter turnout, because of a huge voter turnout, and I say huge, we won," Sanders said, mimicking the way Trump says "huge."
Billionaire Battle
Clinton wasted no time in releasing a statement on Tuesday night that said her campaign is looking forward to March, where states with a more minority-centered demographic will participate. She also admitted she needs to do more to connect with younger voters, as Sanders, who ironically is the oldest candidate running in either party at 74, is dominating the youth vote. Clinton is 68.
Sanders' rising popularity could entice billionaire Michael Bloomberg to enter the race. The former New York City mayor has expressed interest in running and recently revealed he's monitoring primary results. Bloomberg, worth a reported $39 billion, would likely run as an independent.
Many political pundits believe Clinton is an at-risk candidate these days, due to her ongoing email scandal. Sanders continues to be perceived as a long shot in the general election, due to his socialist political views. That's why continued strong results from Sanders are likely the key to Bloomberg throwing his name into the ring.
With Trump's national popularity and stable polling numbers, a billionaire vs. billionaire 2016 presidential showdown would certainly make for an interesting election.
Candidate Casino
If gambling is an important issue in determining which candidate will receive your vote, here's a rundown on the key contenders for 2016.
Democrat
Hillary Clinton: The former Secretary of State has been mixed on gaming. She publicly opposed casino development during her husband's governorship in Arkansas back in 1984, and then supported such growth while a senator in New York. Clinton also voted in favor of the Unlawful Internet Gambling Enforcement Act (UIGEA) in 2006, the bill that outlawed the transmission of money online for gambling purposes.
Bernie Sanders: The Vermont politician hasn't revealed much on his gambling position, though he too voted in favor of UIGEA.
Republican
Donald Trump: Trump was once in the casino business in Atlantic City with several properties, but bailed out of it before the New Jersey gaming town started to sink financially. He's verbally pro gaming, both land-based and online, but as he's never held a political office, he doesn't have a voting record.
Marco Rubio: The Florida Senator is championing the Restoration of America's Wire Act (RAWA) in Congress this year, the bill that would effectively block all forms of gambling online, and it's rumored that he may have Sheldon Adelson's support, although that's still undeclared.
Ted Cruz: The Texas senator's main focus is working against congressional "cronyism," and the evangelist conservative would likely oppose bills like RAWA that extend the scope of federal government.
Most Read