New Cambodian Casino Ignites "Border War" With Thailand
Posted on: April 20, 2017, 06:00h.
Last updated on: April 20, 2017, 04:03h.
A new Cambodian casino on the border with Thailand has provoked a bizarre border stand-off between the two countries.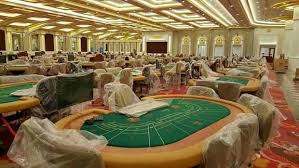 Since it's illegal for the residents of both countries to gamble in casinos, the Saitaku Resort and Casino, which opened several weeks ago at the Chong Sai Taku temporary border crossing in Cambodia's Ban Kruat district, was relying on attracting all of its footfall from across the border in Thailand.     
This seemed like a sound business plan, until Thai authorities, on the night of the casino's soft opening on April 7, banned their citizens from crossing the checkpoint to visit it.
Thus, we have a beautiful new casino that no one, or at least no one born within hundreds of miles of it, can actually visit.
In retaliation this week, Cambodian authorities banned its own citizens from crossing the border to visit Thailand.
This stalemate is damaging the business for local tradesmen on both sides who depend on cross-border activity for their livelihoods. Santi Uthumporn, mayor of the tambon Chanthop Phet Municipality in Ban Kruat district, told the Bankok Post that trade had plunged from several million baht a week to almost zero.
Thailand Coup a Boon for Cambodia Casinos
Thailand's coup of 2014, which toppled the democratically elected government, ushered in a military junta that immediately began an authoritarian crackdown on the country's illegal casinos and gambling dens.
This was to the boon Cambodia's casinos, particularly those in the small gambling town of Poipet, 100 miles south of Chong Sai Taku.
Poipet's casino strip, which contains nine smallish casinos, is cunningly situated in a kind of gambling no man's land between the Cambodian and Thai passport control counters.
Saitaku Resort and Casino's plan to emulate Poipet's success, is, unfortunately, not at all going to plan.
Meanwhile, on the Vietnam Border
Hoping for better luck will be a newly proposed casino resort that will lie on Cambodia's northern border with Vietnam, whose citizens are also banned from gambling in most of their homegrown casinos.
Empire World City, a $200 million property to be developed by Virtue Resorts Corp (interesting name for a company involved in a vice industry), will be located in Bavet City, a short distance from the Moc Bai border crossing with Vietnam.
Virtue Resorts has said it chose the area because it foresees strong economic growth in there over the next decade. As well as a casino and hotel resort, the property will have an online casino hub and a commercial neighborhood mall. Additional features include a "Water Show Arena."