New Book Says Knicks Fixed NBA Games in 1981-1982 Season
Posted on: September 21, 2013, 05:30h.
Last updated on: October 22, 2013, 12:39h.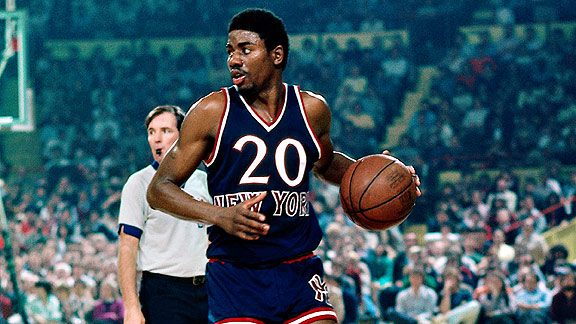 A new book has made the shocking claim that three players on the 1981-1982 New York Knicks team fixed NBA games in order to help out a drug dealer that they were associated with, helping that dealer win bets during a disappointing season for the team. Those allegations come from Brian Tuohy's Larceny Games: Sports Gambling, Game Fixing and the FBI, in which Tuohy cites FBI sources who say that three players were investigated as potentially being part of a point-shaving scheme that season.
Match Fixing an Ongoing Issue
With scandals about players betting on games and match fixing around the world in the news today, it's easy to forget that the integrity of sports is likely better now than it ever has been before. After all, the increased attention from leagues and organizing bodies has helped quickly discover suspicious behavior, and – at the highest levels of sports – the incredible salaries of professional athletes have helped remove the incentive for players to participate in schemes.
But these safeguards aren't perfect even today, and in earlier eras, the opportunities to fix games were certainly more prevalent. And when you combine the fact that players made less money in the early 1980s and that the three players were said to be "heavy users of cocaine," it's not hard to imagine how the fix could have happened.
"So many people say it's impossible to fix a game because guys are paid so much money," Tuohy said to the New York Post. "But you can see how easily they can get hooked on some drug, be ambling themselves, and get in deep with a bookie."
According to the FBI sources quoted in Tuohy's book, the unnamed drug dealer – who is only said to be "one of the largest dealers on the East Coast" – was known to be a heavy sports bettor, betting about $300 per game on NBA contests. But starting in January of 1982, those bets started to rise to as much as $10,000 per game, with many bets going against the Knicks, either for them to lose or to fail to cover the spread.
Winning Big, Betting Suspiciously
Those bets paid off. By March, the dealer had won six of seven such bets against the Knicks. Meanwhile, he continued to make his standard $300 bets on games not involving the Knicks. At the same time, the FBI believed that the three players in question were betting against themselves, with one of the players owing a large gambling debt to a bookie connected with the Luchese mob crime family.
The actual nature of the "help" the drug dealer received from the players isn't entirely clear. At first, the FBI agents following the situation believed that they were simply giving their dealer inside information about the team – perhaps about when they expected teammates to play poorly, or when players were struggling with nagging injuries.
But one FBI source eventually came to believe the players were engaged in points-shaving – the practice of ensuring the team would not cover the point spread. This is often a way for players to influence betting results without actually manipulating who wins or loses a given game.
Although the three suspected players were unnamed, many suspect that one could have been Michael Ray Richardson, one of the team's stars despite a purported cocaine problem. Richardson would eventually be banned from the NBA for three violations of the league's drug policy. Richardson, who now coaches a team in Canada's NBL, has denied ever taking part in a point-shaving scheme.
Similar Guides On This Topic