New Attractions and Casinos Set for 2014 as Las Vegas Slowly Rebounds
Posted on: December 17, 2013, 05:30h.
Last updated on: December 17, 2013, 04:00h.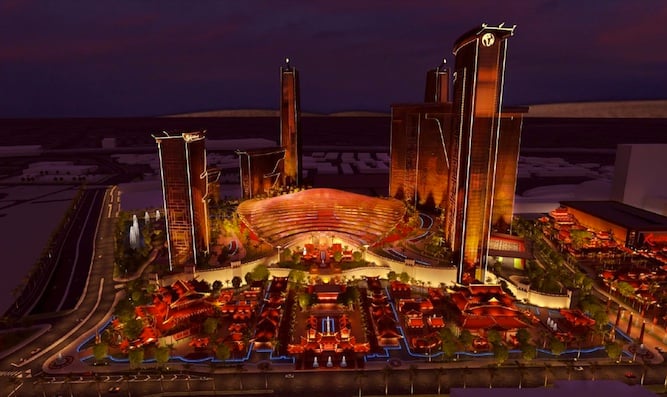 There haven't been any miracles in Las Vegas following the deafening thud of the recession that hit back in 2008, but little by little, slowly but steadily, Sin City is coming back from its TKO and standing on its feet again. With casino revenues once more slightly up from the previous year – 2.4 percent through to end of October, and that's up from a 1.5 percent jump in 2012 to $10.86 billion – the city is finally starting to see daylight (or neon, as the case may be). And that's even though there's been a slight drop in actual visitors to Vegas: 33.5 million through to end of October, which is down 0.3 percent from last year; indicating that per person spending is on the rise once more.
Slow But Steady Comeback
The good news is, the outlook for 2014 is even brighter, with solid convention bookings for the first six months of the year, and the booming Asian baccarat love affair with Las Vegas still in high gear.
Credit Suisse gaming analyst Joel Simkins sees it all as a step in the right direction.
"Corporate America is sending people to Las Vegas," said Simkins. "That end of the business is quite healthy."
And Wells Fargo Securities gaming analyst Dennis Farrell Jr. sees middle-class America coming back to Vegas in healthier numbers in 2014 as well, after a drop off  in attendance this year. Plus, never underestimate the never-ending allure the City of Neon holds for those overseas.
"There also continues to be international demand for Las Vegas," noted Farrell.
First New Casinos in Four Years
But perhaps most exciting for Las Vegas will be the resurgence of casinos being built on the Strip, after several years of quiet. The city expects to see three renovated casino hotels, as well as several major nongaming attractions at least start to come to life before 2014 is out.
Among the major casino projects on the books will be the former-Sahara-now-SLS Las Vegas, with a $415 million renovation budget, and the $180 million "TBD" Casino, where  previously stood Bill's Gamblin' Hall at the corner of Las Vegas Boulevard and Flamingo. All set to be a chic little boutique casino hotel, bearing the Gansevoort name while under the stewardship of Caesars Entertainment (whose Caesars Palace sits right across the street), a major regulatory brouhaha in Massachusetts earlier this year forced Caesars to sever all ties with the New York hotel group, and they haven't found a new girlfriend quite yet.
Then there are several new "sizzle" projects coming in as well in 2014: for example, Caesars Entertainment's $550 million Linq district, with entertainment, retail and restaurants, as well as a 550-foot High Roller observation wheel which we sincerely hope comes equipped with accommodating bags for the queasy amongst us. Also coming to town next year will be a new $100-million al fresco development from MGM Resorts International; if you're a chocaholic, the planned 150,000-square-foot Hershey's Chocolate World should get you sufficiently sugared up to take you to the moon and back on your own steam.
The latest addition to this panoply will be the $50-million Grand Bazaar Shops, going up near (and being built by) Bally's on the Las Vegas Strip at Flamingo.
With recent Nevada Gaming Control Board statistics noting that only 35 percent of Las Vegas Strip revenues now come from actual gaming, all these spectacles are for more than decoration: they've become genuine – and important – sources of income for the city and Nevada's coffers as well. Nongaming vehicles such as dining establishments, nightclubs, high-end shopping and sports and entertainment events are now critical to the financial health of both the city and the state.
"It's representative of the trend acknowledged in the gaming industry," analyst Simkins said. "Regional gaming markets have matured and Las Vegas needs to find additional ways to capture the consumer."
But the big wow factor will be held for Genting's multibillion dollar Resorts World Las Vegas, which is taking its sweet time starting (or, should we say, picking up) construction (give or take five years), as the company gathers all the necessary permits to create its phoenix in the figurative ashes of Echelon, and before that, the Stardust, on the 87-acre site. Word is the Malaysian-based company may even bring in a pair of pandas from China as their answer to white tigers, sharks and lions.
Because they won't have to pay for foundation work and got the Echelon site at fire sale prices, Genting is starting out with full pockets. And from whenever they do start to build, it's expected to take two to three years for the company to complete the 3,500-room hotel-casino project.
"The beauty of Genting is that they have a lower return-on-investment threshold than most other gaming companies," Simkins said. "They are in it for the long haul.
"The Genting folks take a longer-term view of their investments," Farrell added. "They are not in any rush."
Similar Guides On This Topic