Nevada Sports Betting Embroiled in Battle of Who Can Accept Wagers
Posted on: March 31, 2013, 03:17h.
Last updated on: March 31, 2013, 05:57h.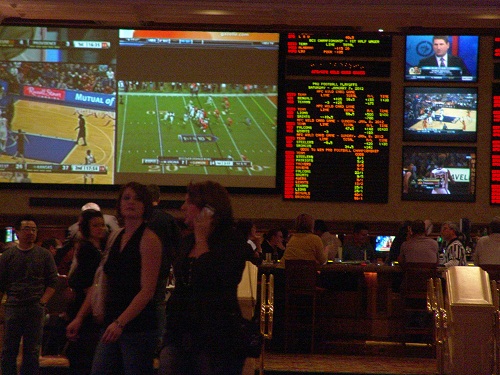 Back in the day, if one mob crew was siphoning business from another mobster famiglia in Las Vegas, you know what happened: all hell broke loose. Not much has really changed; the battles have just moved away from the mob and into the state legislature.  The latest such battle involves huge corporate casino sports books vs. your local tavern, and all cylinders are firing with a new State Senate bill that aims to put the kaibosh on the smaller establishments being able to accept and pay off sports bets in the Battle of Nevada Sports Betting.
Senate Bill 416
At the center of the controversy is Senate Bill 416, introduced by the state's Senate Judiciary Committee, with the goal of ending the capability of smaller, restricted slot machine licensees from being able to accept sports bets. Backed by the Nevada Resort Association (read: large casinos), proponents say the new bill would end the small sector business that they claim is cutting into their turf.
Sen. Tick Segerblom (D-Las Vegas), the Judiciary Committee chairman, isn't so sure that's accurate, however. In his view, arcades and local taverns that offer sports and horse race betting kiosks are not even capable of siphoning business away from major casino sports books, for a variety of reasons.
In agreement with Segerblom is  Joe Asher, CEO of William Hill Corp. (not exactly the kind of quaint family business we were picturing, but oh well), a company with 82 such kiosks that accept wagers. Asher says that SB416 is simply "anti-competitive." Businesses with restricted licenses can have up to 15 slot machines, but no table games such as 21, craps, roulette or baccarat. Due to an administrative order of Nevada's Gaming Control Board, these restricted businesses are nonetheless allowed to offer wagering on sports and horse racing, which casinos perceive as taking a bite out of their business.
William Hills' Asher says that only $600,000 of the $170 million won in 190 sports pools statewide in 2012 came from these smaller business kiosks. "That's  one-third of one percent," he said. "There is no evidence the kiosks are hurting the big casinos," Asher added. "The Nevada Resort Association is pushing this bill, and it is not a good idea."
Don Corleone, meet Don Vito.