Nevada Legislature Convenes to Consider Football Stadium Funding
Posted on: October 10, 2016, 01:00h.
Last updated on: October 10, 2016, 11:45h.
The Nevada Legislature is gathering this week to discuss the Southern Nevada Tourism Infrastructure Committee's (SNTIC) recommendation that $750 million in hotel occupancy tax revenue be allocated to help a billionaire build an NFL football stadium.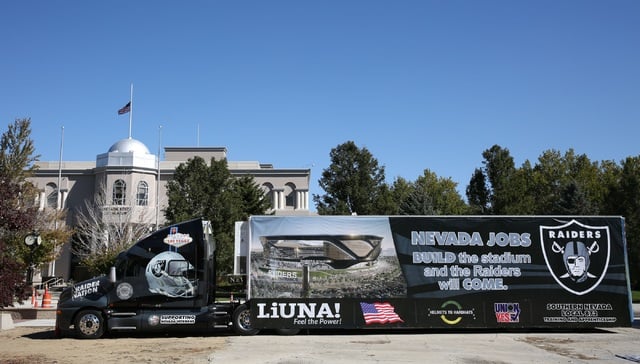 In September, SNTIC unanimously suggested to the Nevada Legislature and Governor Brian Sandoval (R) that three-quarters of a billion dollars be used to aid Las Vegas Sands billionaire Sheldon Adelson's attempts to bring the Oakland Raiders to Sin City. Adelson, along with Raiders owner Mark Davis, has proposed building a 65,000-seat domed stadium somewhere near the Strip at a cost of $1.9 billion.
Created by Sandoval in 2015, SNTIC doesn't control tax dollars, but recommends tourism improvement projects to the state government in Carson City.
The Legislature convened for the special session this morning at 8 am. Sandoval and the Legislature will consider SNTIC's recommendation, though the stadium project already has the governor's backing.
"Before us is a rare opportunity to seize the moment and raise Las Vegas, already the best in the world, to the next level of entertainment and hospitality," Sandoval said in a statement. "I'm proud of Las Vegas and the work that has been done to create these possibilities for Nevada's future and the next phase of our state's evolution."
The 0.88 Percent
Adelson comes in at #14 on Forbes' latest list of the wealthiest Americans. Worth just short of $32 billion, Adelson is willing to put up $650 million to build the NFL stadium.
Davis has pledged $500 million, meaning if the Nevada Legislature approves SNTIC's suggestion, the stadium funding would be in place.
The $750 million in public money would be generated through a 0.88 percentage tax increase on hotel room stays. Along with an additional .5 percent increase for convention center improvements, the hotel occupancy tax rate would go from 12 percent to 13.38 percent.
But there are plenty of opponents to the project who believe the government shouldn't be subsidizing a billionaire's project. Though it would be the largest funder of the stadium, Las Vegas wouldn't own the $1.9 billion venue.
SNTIC believes the city would benefit financially from the increased tourism. Adelson's team estimates $1.43 billion in annual increased economic activity would result from Las Vegas housing an NFL franchise.
Family Affair
Once a partner with Adelson and Davis, Majestic Realty, a Southern California real estate company, is backing out of the undertaking.
Majestic Executive Vice President Craig Cavileer told the Las Vegas Review-Journal last week that Adelson wants the stadium to himself for his own personal legacy.
"The project has evolved and it's no longer a Sands and Majestic deal," Cavileer told the newspaper, which Adelson owns. "It's something that Sheldon wants to do as a legacy for his family, and we're respectful of that . . . It's moved to the point where it's something Sheldon really wants to do with his family, so we're willing to step back and let it go forward."
But Adelson painted a different picture recently.
"A guy in my position doesn't need anything," the billionaire told Yahoo Finance. "I've got everything I need."