Nevada Gaming Revenues Spiral Down for January
Posted on: March 10, 2013, 03:03h.
Last updated on: March 18, 2013, 10:18h.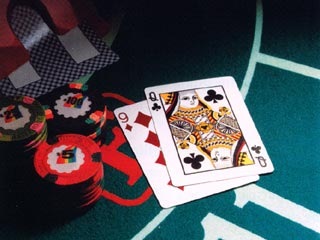 Just when you think the news for Las Vegas is picking up with Genting's announcement of a new massive Strip project on the old Stardust/Echelon site, bad news hits: an 18.7 percent revenue tumble on the Strip for January 2013 compared to the same time period last year. What's going on??
New figures just released by Nevada's Gaming Control Board showed a 12.4 percent drop overall in the Silver State for January, with $909.2 million in gaming revenues, which is a significant drop from $1.038 billion just a year ago.  For the Strip specifically, those numbers were $507 million, versus $623.5 million in January 2012.
Not a Happy New Year…Yet
One reason for the big drop may have something to do with the shifting lunar dates of the very lucrative Chinese New Year for bringing in lots of big-money gamblers to Vegas.  Whereas January 2012 encompassed the holiday last year, this year, it fell in February.  Gambling dollars from high-end baccarat play, always an Asian favorite and a big house advantage game for casinos, thus were not as impressive as in the same  time frame in 2012, when Nevada had its first billion-dollar plus month since the economy fell in the toilet there back in September 2008.
Baccarat is Bread and Butter
Lower than normal baccarat revenues were responsible for 85 percent of the downfall in January.  Strip casinos pulled in $99.5 million  from the game this year, which was a 50.8 percent downfall from 2012. Actual amounts wagered at the game were naturally less as well, at $794.8 million, which was 48.9 percent lower than last year.  (That does, however, show a pretty nice edge for the house, regardless; no wonder casinos love this game.) At least the hold levels, meaning what the casinos got to keep versus what customers won back, was pretty steady with 2012; at 12.02 this year compared to 12.47 in 2012.
Combined Month Revenues Might be Snake Charmed
Before you sob uncontrollably at the sadness of it all, consider these thoughts from Wells Fargo Securities gaming analyst Cameron McKnight, who addressed investors last week: "We believe the January-February combined comparison will offer a more meaningful look into annual growth," McKnight told the gathering.
Another analyst, Chad Beynon of Macquarie Securities, said that "management teams from Las Vegas Strip casino operators have boasted that the 'Year of the Snake' was a good one. The poor optical results were significantly affected by the timing of the Chinese New Year."
Good thing, that, or a few of their jobs might have been rattled.
Similar Guides On This Topic