NCLGS States Opposition to Federal Online Gambling Ban
Posted on: April 16, 2014, 05:30h.
Last updated on: April 15, 2014, 08:14h.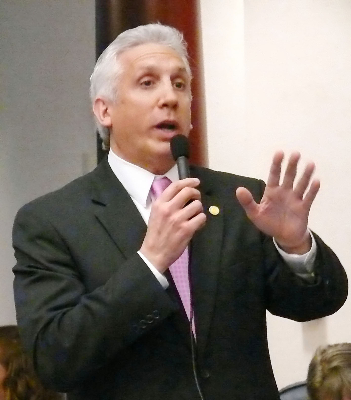 When it comes to the gaming industry, some states have more experience – and more at stake – than others. That's one of the reasons why the National Council of Legislators from Gaming States (NCLGS) exists: to give state lawmakers a way to meet and discuss gaming issues and help shape policy on the issue. When the NCLGS makes a statement on a major gaming issue, it carries the weight of lawmakers from states where gambling is highly important.
That's why it was big news recently when the NCLGS came out against the efforts to reinterpret the Wire Act and effectively ban most forms of online gambling. In a letter written by NCLGS President James Waldman – a Democratic state representative in Florida – to Senators Patrick Leahy (D-VT) and Chuck Grassley (R-IA), as well as Representatives Bob Goodlatte (R-VA) and John Conyers (D-MI), the organization laid out their reasons for opposing S.2159: "The Restoration of America's Wire Act."
"It is our strong conviction…that states are the most appropriate entity to decide upon, and oversee, what kind of gaming should exist and what should not within their borders," the letter states.
The NCLGS called for allowing states to regulate the gaming industry on their own.
"States have the expertise, developed over many years of experience, to oversee gaming for the best outcomes to the states and their consumers," Waldman wrote. He added the Congress had previously made similar statements in bills such as the Interstate Horse Racing Act.
Not a Call for Legalization
While the NCLGS clearly stated their opposition to the bill currently before Congress, they stopped short of calling for the widespread regulation or legalization of online gambling.
"To be clear, NCLS does not support or oppose legalization of Internet gaming and realizes that the technological advances in gaming – Internet or otherwise – present multiple social and economic policy issues to be considered," the letter states, pointing out that several states have either regulated or banned Internet gambling on their own already.
NACS In Favor of Bill
While the NCLGS may have made a strong statement against an online gaming ban, they weren't the only group to take a position on the bill. The National Association of Convenience Stores (NACS) – a group that advocates for the interests of convenience store owners – has expressed its support for the legislation.
In letters to Senator Lindsey Graham (R-SC) and Representative Jason Chaffetz (R-UT), the NACS opposed allowing states to regulate online gambling without federal oversight.
"The Internet is poised to be the Wild West of gambling with individual states allowing gambling businesses of all kinds to set up shop online and prey upon vulnerable Americans without any federal check of consistency," wrote NACS senior vice president Lyle Beckwith.
The NACS support for the bills currently before Congress may largely be due to one of the most important revenues streams for many convenience stores: lottery tickets. If such tickets were widely sold online, it could potentially take away revenue from such stores.
"Convenience stores depend upon lottery ticket sales to get foot traffic," Beckwith wrote. "Now is not the time to put brick-and-mortar small businesses in jeopardy by closing our eyes to a coming explosion of gambling on the Internet."
Similar Guides On This Topic