NASCAR Racer Tony Stewart Kills Kevin Ward in Sprint Car
Posted on: August 11, 2014, 08:41h.
Last updated on: August 11, 2014, 08:53h.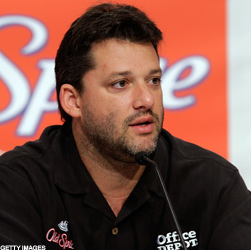 NASCAR driver Tony Stewart is no stranger to controversy, and he's had problems in sprint cars in the past. But none of these incidents were nearly as serious as the one that occurred on Saturday, when Stewart hit Kevin Ward Jr. with his car, killing the 20-year-old driver. The incident took place at a non-NASCAR race involving sprint cars in upstate New York at the Canandaigua Motorsports Park. It began with a crash on the previous lap, in which Stewart's car collided with Ward's, sending Ward's car into a fence.
Ward Hit While Attempting to Confront Stewart
Ward, seemingly angry, walked out from his car onto the track as the other cars slowed due to the caution flag after the accident. Ward looked as though he wanted to confront Stewart, gesturing at his car as he came around the track.
But as Stewart passed by him, Ward appeared to be struck by the back right wheel of Stewart's car. Video seems to show Ward being dragged underneath the wheel for a short distance. Rescue workers quickly came out to give Ward medical attention, but the driver was pronounced dead when he arrived at a local hospital.
Almost immediately after the incident was reported, speculation began on whether or not Stewart could face any criminal charges in connection with Ward's death. Stewart has a history of verbal and physical confrontations with other drivers, and while few, if any, commentators considered the idea that Stewart would ever hit a walking driver intentionally, there were questions as to whether or not the NASCAR favorite had driven recklessly.
No Charges Filed Against Stewart
So far, it appears as though authorities don't feel that this was the case, treating this as a tragic accident. Sheriff Philip Povero has said that there has been no evidence as of yet to support any criminal charges for Stewart. The local district attorney is still reviewing the investigation, however, and testimony and video are being collected by the sheriff's department.
While Stewart considered racing at Watkins Glen on Sunday, he ultimately bowed out of the race, citing his emotional state in the wake of Saturday's incident.
The incident comes a year after Stewart broke his right leg in another sprint-car race in Iowa. That injury last year cost him the remainder of the NASCAR season. But that didn't stop Stewart from returning back to sprint-car racing last month, when he won a race at the Tri-City Motor Speedway in Michigan.
While the focus this week has been on Ward's tragic death, the incident may also have an impact on the race for NASCAR's championship. There are only four races remaining before the sport's playoff, a ten-race series known as the Chase for the Sprint Cup, begins.
At the moment, Stewart is currently in 22nd place in NASCAR's points standings. He has not yet qualified for the playoff, and with 12 of the 16 spots in the Chase having been reserved for those who have won a race this season, it seems unlikely that he will qualify on points. That means he would have to win one of the remaining races in order to have a chance to compete for a championship down the stretch.
Bookmakers don't see Stewart as a favorite to win the championship, but they don't seem to believe this weekend's events have impacted his chances tremendously, either. At the moment, sportsbooks have Stewart as about a 25-1 shot to win the 2014 Sprint Cup Championship, not too far off from the 18-1 odds he opened the season at.