Mount Airy Casino Challenges Pennsylvania's $10 Million Annual Host Tax
Posted on: August 22, 2016, 06:00h.
Last updated on: August 22, 2016, 02:52h.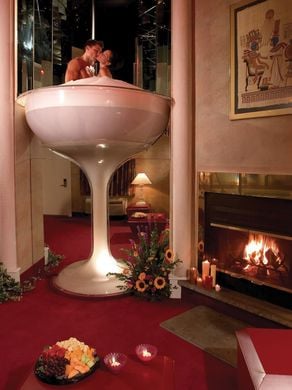 For many folks over 40, say "Mount Airy in the Poconos," and images of eight-foot-tall champagne bubble bath and heart-shaped tubs immediately jump to mind. A few decades back, the working-class resort area marketed the decidedly unique and memorable tubs to couples who wanted some entirely adult playtime.
But now, one casino in what is now referred to as the Pocono Mountains is doing something decidedly unromantic: fighting for its own money.
Mount Airy Casino Resort is asking the Pennsylvania Supreme Court to annul a state gambling regulation that requires casinos to pay $10 million annually to its host city or town.
Senate Bill 862, passed and signed into law back in 2006, mandates that casinos pay two percent of gross slots revenue to the township in which they're located. The kicker is that the two percent must equal at least $10 million, otherwise the casino is on the hook to make up the difference.
But none of Pennsylvania's twelve casinos even came close to grossing $500 million from slots last year, meaning all had to write additional tax checks.
Sheldon Adelson's Sands Bethlehem is the largest casino, in terms of pure revenue, in Pennsylvania. During the last fiscal year, the Las Vegas Sands property generated $288.9 million in gross terminal revenue.
At two percent, Sands' true tax payment was about $5.7 million. Meaning Adelson's gaming company was forced to pay the $4.3 million difference.
For Mount Airy, the difference was even more substantial. The northeast Pennsylvania casino pulled in just $139.1 million in terminal income, meaning its two percent payment was $2.78 million, with $7.22 million tacked on.
"All we're asking for is uniformity and fairness," Mount Airy attorney Michael Sklar told Allentown's Morning Call. "That $10 million rate is neither."
Substantial Consequences
Mount Airy is tasking the state's Supreme Court with deciding if the tax variance structure is legal under current state law. The casino first filed the petition in April of 2015.
And it's not the only gaming entity to challenge the statute, either. Pittsburg's Rivers Casino sued the Pennsylvania Department of Revenue earlier this year on similar charges.
"The different rates of taxation resulting from this provision are arbitrary, unreasonable, not related to a legitimate government purpose, and not based on a legitimate distinction between taxpayers to warrant their imposition," the complaint declared.
Rivers sought restitution for overpaying during the last seven years to the City of Pittsburgh. However, the casino dropped the case late last month.
Should the Pennsylvania Supreme Court review the regulation and determine that it's in violation of state taxation laws, all twelve casinos would likely start paying only a two percent tariff. And that could be bad for the cities and towns that rely heavily on the revenue.
"Our host fee is equivalent to 100 police officers," Bethlehem Mayor Robert Donchez (D) said of the Sands payment.
Backtracking on Agreement
Challengers to Mount Airy's complaints about  say the casino resort knew what it was getting into when it opened in 2007.
"This fee has been established for a decade," State Senator Pay Browne (R-District 16) said in response to the annulment request. "We're not just going to let this money be stripped from municipalities."
Pittsburgh Mayor William Peduto (D) agreed last month. "Rivers Casino knew about this funding commitment prior to applying for their license, and knew this funding was due to the city," Peduto said.
Meanwhile, gambling in the Keystone State is once again enjoying a strong year. Revenues statewide were up 2.95 percent in July 2016 compared to 2015, and table games jumped 8.5 percent for the same period.